patterdaleterriers.co.uk is a participant in the Amazon Services LLC Associates Program and other affiliate advertising programs designed to provide a means for us to earn fees by linking to Amazon.co.uk and affiliated sites. Affiliate links may be used on this page and in patterdaleterriers.co.uk articles, but they do not impact on the price that you pay and they do help me to get this information to you for free. Read my privacy policy for more information regarding affiliates.
Today's blog is all about the best dog walks in Ipswich including Hadleigh Railway walk, Christchurch Park and Priestly wood.
Hadleigh Railway Walk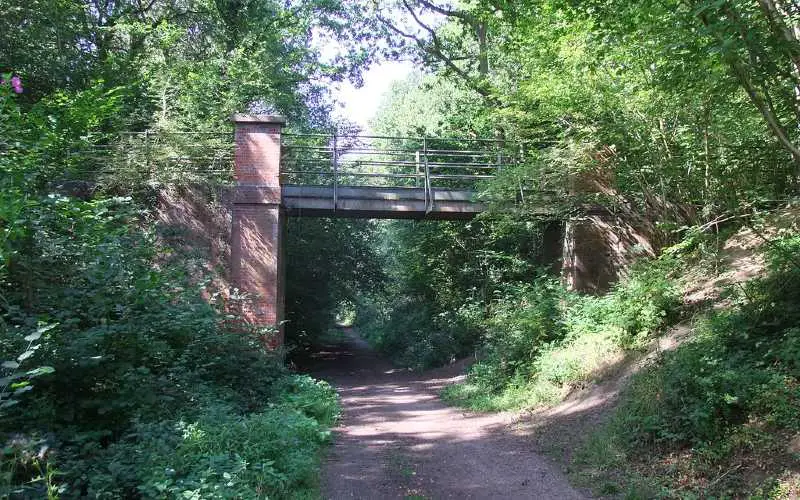 This walk will take you along the Old Hadleigh Railway line. It is around a 2-mile stroll on relatively flat grounds, so perfect for any age dog. However, cyclists are around so, watch out for them just in case your dog goes in front of a bike. This walk starts at the closed Hadleigh railway station. You will then head southeast along the old line passing Raydon Great Wood and then finish at old Raydon Great Wood railway station. This walk is an easy walk and is very peaceful. 
If you wish to continue your walk, you can head and walk along with the River Brett, but it is up to you how long you wish to walk for.
Holywells Park
This park has plenty of open space where there are many trees and even ponds to explore. The park extends for approximately 28 hectares so, you can go on this walk multiple times and see something new each time. This park is a County Wildlife Site and a Conservation area with two listed buildings: The Stable Block and The Conservatory. If you are walking your dog with your children, then there is a park on-site to let your children have a play. There are places to eat but it is uncertain if they are dog friendly. However, eating outside should not cause a problem.
Christchurch Park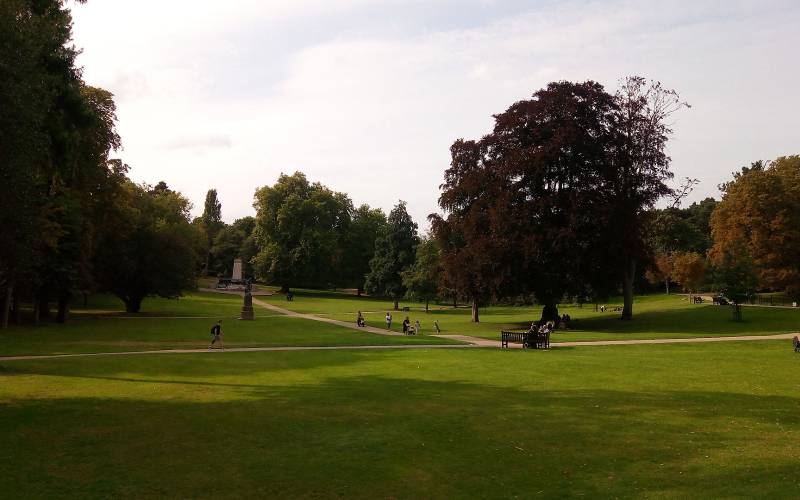 This park extends over 33 hectares and is very picturesque so take photos when you are here! The park is near the heart of the town so it is in a great area to find places to eat after your walk. There are various benches in the park to have a sit-down and there is a huge fountain in the middle to throw coins. The walk itself is relevantly flat so it suits any age dog and is an easy stroll.
Limestone Park
Limestone Park is a park with a lot of open space and greenery. Your dog will be able to have a run around here so bring a ball or grab a stick for your dog to chase around. Limestone Park has picnic tables and barbecues with drinking water so your dog will not go thirsty. Most people stay in this park for around 1-2 hours, so this is more than enough time to tire your dog out. 
Priestley Wood, Ipswich
This park is an example of East Anglia's ancient woodlands. On this walk, you may be able to see the rare native wild pear tree and different types of wildlife. Your dog is allowed to be off the lead during this walk and there are plenty of places to sniff around. This walk is also near Barking and Needham Lake, both picturesque places to visit if you have time. If you want your walk to last longer, you can try the Barking and Back Again Route which is a circular 5.5-mile walk beginning at Needham Market railway station.