patterdaleterriers.co.uk is a participant in the Amazon Services LLC Associates Program and other affiliate advertising programs designed to provide a means for us to earn fees by linking to Amazon.co.uk and affiliated sites. Affiliate links may be used on this page and in patterdaleterriers.co.uk articles, but they do not impact on the price that you pay and they do help me to get this information to you for free. Read my privacy policy for more information regarding affiliates.
Canicross is a popular sport that you can enjoy with your canines. It is increasingly becoming popular in the UK. If your pet dog is at least 12 months old, you can take him for his first Canicross experience. The sport involves running to a different degree. This is why you can say that it sits right next to competitive sports such as bikejoring or skijoring. Today's blog is all about how to choose the best canicross harness.
In this off-season sport, the dog is strapped to a running person. The human runner wears a belt, clipped with a running line that attaches all the way to a harness at the dog's collar. As the dog pulls, he takes the runner with him forward. Together they manage to sync the speed and get across as quickly as possible. 
As a sport, it is fascinating because you're not just going out on a walk with your dog. He has the freedom to take you forward while feeling the fun kick in!
Usually, you can run cross-country with one or a few of your pooches. To participate, you must have a well-groomed dog for that kind of running. So it requires you to spend some time training your fur buddy. Other than that, it's absolutely fun – keeps the adrenaline rushing because there is a sense of competition.
DINGO Canicross Belt 4-in-1...
LASALINE XBack Dog Harness, sledge...
Newka Canicross Lead And Belt Hands...
DogFit® Canicross Starter Kit to...
X-Back Dog Harness for Bikejoring,...
DINGO Canicross Belt 4-in-1...
LASALINE XBack Dog Harness, sledge...
Newka Canicross Lead And Belt Hands...
DogFit® Canicross Starter Kit to...
X-Back Dog Harness for Bikejoring,...
Get Started
You need to maintain caution when it comes to participating in Canicross. There is a lot of tugging and rushing involved, so ensure ultimate comfort and security for the both of you. Get a harness that keeps him safe and helps him win you both a good game in confidence! 
Outdoor harnesses should be your prime choice because they are robust and have tight and secure clips for holding on. At the same time, the material should be comfortable around the collar, so your pooch doesn't get strained or bruised from all the fierce running. 
We're about to give you the best insight about good manufacturers of Canicross dog harnesses which are Dingo Waldemar, LasaLine, Newka, DogFit and Northern Howl.
1. Dingo Waldemar Canicross Leash
DINGO Canicross Belt 4-in-1...
The multifunctional 4-in-1 running belt with a dog is designed for both beginners and advanced canicross enthusiasts, allowing walking, running, and hands-free training with one or more dogs
Our durable dog walking belt is equipped with comfortable hip harnesses that relieve the runner's lower back during pulling and directional changes by the dog while running
The reflective canicross belt can be used to attach the dog in 4 different ways, depending on preferences and the weight of both the dog and the runner. For safety reasons, only use sport leashes with a shock absorber when attaching them to the belt
If you have not one, not even two but maybe more dogs than that, this leash is perfect for you. It harnesses a few doggos at once without making it hard to run cross-country for competition. Dingo Waldemar is a 1977 reliant brand that has excelled its game in creating the best for dogs of all breeds. And because humans accompany these precious paws, this brand has products for you too. These are multi-functional, made of impeccable quality and fit perfectly. 
Once it fits, it is fantastic! You can train your dog, jog or walk between sessions and stay put till you finish a game of Canicross. They refer to this particular harness as a shock absorber. This means that no matter how rough of Canicross, the dog participates in, the harness will hold on safely without shifting. 
2. LasaLine Canicross Dog Harness
LASALINE XBack Dog Harness, sledge...
WHY LASALINE DOG PULLING HARNESS X BACK ? Our pulling harness is best as a dog pulling harness for dog sport harness for strong pulling dogs. The X Back dog harness design provides an even distribution of pressure, stabilizes, supports, protects the back and trains the back muscles. Free-lying shoulders guarantee freedom of movement. The laterally free chest area promotes completely free breathing. In the neck area it fits snugly without constricting under tension and provides a stable fit
DOG TRAINING Harness : LASALINE dog pulling harness is designed for dog sport and is best suitable as a CANICROSS HARNESS, for BIKE JORING , SKI JORING , as a DOG SCOOTER HARNESS , SLED HARNESS , HUSKY SLED HARNESS. This dog harness for pulling is often called canicross harness, sled dog harness, husky harness or dog weight pulling harness. This xback harness dog , is recommended also as a dog harness for walking for mountain hiking or cross-country marching, touring or walks in the mountains!
MULTIFUNCTIONAL DOG TRAIN Harness:This dog harness for pulling is suitable for almost all breeds(not only as Husky dog harness !). The LASALINE dog pulling harnesses guarantee a joyful experience with the four-legged friend for dog lover,beginner,hobby sports,professional! Depending on the dog sport in combination: Canicross harness + Joring leash + Canicross belt / sled dog harness + dog pulling leash + dog sled / Bike joring harness + pulling leash / dog scooter harness + leash for pulling dog
If you want a fun pop of blue on a classic black sturdy harness, LasaLine has one of the best Canicross harnesses. A special feature of this product is it comes in a variant range of sizes. It doesn't matter what breed or size your dog is, the brand has something for every hound! 
The design isn't just stylish to look at or flaunt in a pack of other canines. Rather it is punched with the most benefits. The X-Back provides the most comfort and doesn't allow fur shedding. 
This type of design is specially used in training dogs, so you can train away for Canicross without worrying about straining or shedding. Furthermore, it also helps reduce the tension in the rope line as the dog pulls its human puller. It doesn't matter what the distance is.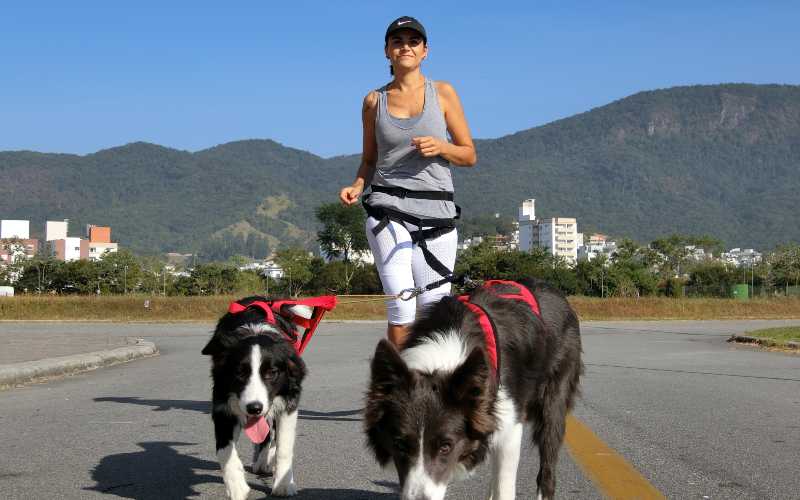 3. Newka Canicross Dog Harness
Newka Canicross Lead And Belt Hands...
🐕 FREEDOM OF MOVEMENT: This Dog Tether + Harness Kit allows you to run with your dog or to practice an outdoor sport of your choice together while having your hands free thanks to the adjustable Belly Belt with its pouch that can hold your phone, keys or treats... 🏃
🐕 SAFETY: This complete canicross kit consists of an animal harness (arnet chien) and the leash to run with his elastic dog are equipped with REFLECTIVE BANDS for your night outings and to cushion and thus promote better shock absorption during acceleration of your four-legged friend without risk of strangulation. Combine pleasure and safety. Its dorsal handle allows you to keep your dog close to you if necessary. 🚶
🐕 HEALTH: With the medium anti-traction dog harness and the running dog leash, doing physical activity together will develop your complicity, your physical fitness while being connected. Count on your pet to motivate you to do sports and help you through the difficult moments of your sports practice thanks to the harness lanyard and the canicross belt. Your cani vtt, canirando, walk will become moments of sharing and good health.
What makes Newka's Canicross harness so special? It allows canines to freely move around, which makes it the perfect harness to train and go into competition with! This ensures that the dog feels no strain on its neck while pulling at you. 
No matter what kind of activity you and your pet dog is participating in, this harness endures all types of physical stresses. It is well-made, and you can tell from the first couple of tries. 
You can easily count on Newka because it knows how to ensure safety and comfort while still giving high-quality service for ages. Moreover, it is a packed set with on-spot essentials. A great feature on this is the adjustable belt with a spacious bag to keep in your absolute necessities close-by. 
4. DogFit Canicross Starter-Kit
DogFit® Canicross Starter Kit to...
High quality, comfortable, complete canicross kit manufactured by DogFit in the UK.
DogFit canicross dog harness in RED bungee line, kitbag & beginners guide.
DogFit canicross human running belt with back pocket and 2m bungee line.
Need a start kit to prepare for a Canicross experience in a short time? DogFit has got you covered with its beginner-friendly tool kit. And after a long day of trying to make it to the other end of the course, you can walk back your hound with DogFit's comfortable belt. 
As a beginner's Canicross kit, this one is a steal because of its affordable price point. Dog owners rave about this not for only that reason, but also because this set proves to be sturdy. Yes, it's no cheap set that will break off or come loose after a few rough uses! 
It is packed with essentials your paw friend needs and will find comfortable. Overall DogFit assures great quality, allowing you to adjust to your need, providing features for a better fit.
5. Northern Howl X-Back Dog Harness
X-Back Dog Harness for Bikejoring,...
Professional x-back dog harness, available in sizes S - XXXL.
Ideal for bikejoring, skijoring, canicross, dogscooting, and dogtrekking.
It is perfectly suitable for an optimal power transfer.
Last but not least, here's a dog harness recommendation that pulls weights like a pro! It hugs a hound's body in high fashion with a firm grip.
Northern Howl's revolutionary harness for Canicross comes in a black and neon colour. It is made for professional sports, designed in X-back style for extreme training. The brand discriminates no size of canine, which is why it ranges from S all the way to XXXXL! 
Once you start harnessing your doggo for training, he will know no limits because this product ensures such safety that it incites confidence to go the extra mile in high speed. 
Conclusion
If you enjoyed this article you might also like to read about: