patterdaleterriers.co.uk is a participant in the Amazon Services LLC Associates Program and other affiliate advertising programs designed to provide a means for us to earn fees by linking to Amazon.co.uk and affiliated sites. Affiliate links may be used on this page and in patterdaleterriers.co.uk articles, but they do not impact on the price that you pay and they do help me to get this information to you for free. Read my privacy policy for more information regarding affiliates.
Border Terriers have a double coat that works to keep them warm and dry when out and about all day in harsh winters.  Their undercoat is soft, thick and fluffy and their outercoat is wiry and bristly.   
They don't need all that protection in our warm, well insulated homes and very few people take their Border Terrier out working outdoors with them in all weathers.  So some owners routinely strip the outer coat every few months.
Twice a year the coat dies and is replaced by new growth and when this happens, the old long hair needs to be stripped out to keep the Border Terrier feeling comfortable and looking good. This is what we mean by Border Terrier Stripping.
How to Tell When it's Time to Strip your Border Terrier
You soon get an eye for when the Border Terrier in your family needs his or her coat stripped.  The hair takes on partings can look lacklustre.  That is your cue that it's time to strip out the Border Terrier's coat.
Training Your Border Terrier to Enjoy the Experience
Effectively stripping any dog that is wriggling and won't stand still makes the job much more difficult.  That is why we suggest getting your Border Terrier used to standing completely still for you when you brush them.  Get him or her to stand whilst you handle them all over, fiddling with the coat stroking them.  Progress to light backcombing and a few little tugs.  Be patient and take it slowly, to begin with; doing so will pay in the long run.  Like most training, endless patience is key to getting it right.  A supply of high value treats tends to help too!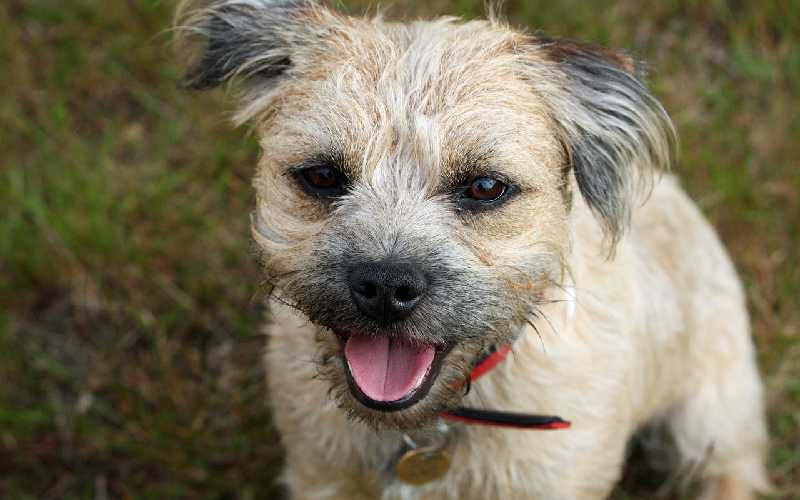 How Long Does it Take
Stripping the coat over a few days simplifies the task when you are stripping your own dog.  When you first start stripping your young Border Terrier for real, it is definitely worth spreading the task over a few days.  Start with just fifteen to twenty minutes at a time.
Gradually, you will get quicker at it anyway, so you can easily increase the time to around half an hour a day over two to three days.
When you are spreading the stripping over a few days, its sensible to be mindful of taking some old hair from all over so that your dog doesn't appear to be patchy in their coat.
Getting Started with Border Terrier Stripping
The area above the back legs and on the back of the thighs is usually one of the easiest places to start when you are new to stripping dog's coats.  So that is the best place to begin.
Moving to the area behind the head and the back of the neck, which are often harder to manage is a logical next step as you then work logically along the body of the border terrier.   
The Method
The easiest way is to hand strip.  First, brush out any obvious loose coat that will come out easily.  Then grasp the skin gently and lean into the body of your dog; the aim is to keep the skin taught in the area that you are stripping. Gently pinch and pull the old coat with the other hand in the direction of growth.  A little at a time is the best way, don't be tempted to pull too much at once which will be painful for your dog.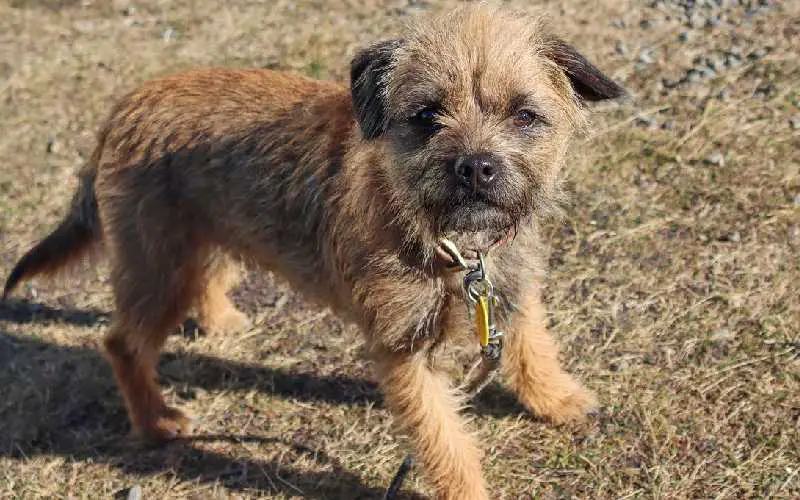 Some people like to use a stripping comb, and they are an effective way of stripping out a dog quickly.  When buying a comb for Border Terriers, care is needed to ensure that the teeth are not really close together because the comb needs to accommodate the thick, wiry outer coat.  Also, please never be tempted to buy a stripping knife because cutting the hair impacts on how the coat works in double-coated breeds. It damages the hair in the long run.  We like this for comb stripping and detangling.  
No products found.
A Border Terrier should never be clipped.  Hand stripping or stripping by comb is the best way to keep your dog's coat functioning correctly and in tip-top condition.
Finally, give your dog a gentle massage in the areas that have been stripped and reward them with some quality fun time or extra edible treats.
If you enjoyed this article you might also like to read about Introducing the Border Terrier and Is the Border Terrier Hypoallergenic?