Are you wondering how to calm a Patterdale terrier? Well – I can tell you from experience that it is not an easy task! But, through socialisation, exercise and training it is possible to calm one down even if it's just a bit!
Look for the Reasons WHY your Patterdale is not calm
Quite often, your Patterdale terrier will be going crazy for a particular reason. Where it's a bike, a stranger or the fact that he is going mental in the house cos he hasn't had a proper walk that day. There is usually a trigger or a reason as to why your patterdale terrier is not calm. Once you figure this out, you can then figure out what kind of reassurance or training he needs to calm him down.
Exercise your Patterdale Terrier Twice daily
If you hadn't noticed, Patterdale terriers are very energetic dogs! As they were bred for hunting in Cumbira (Lake District) they will need a great deal of exercise. Take your dog out for walks at least twice a day for at least half an hour to an hour. Combine this with off-lead exercise too such as playing fetch in the garden at lunch time. If you don't exercise your Patterdale daily, your Patt will NOT be calm!!!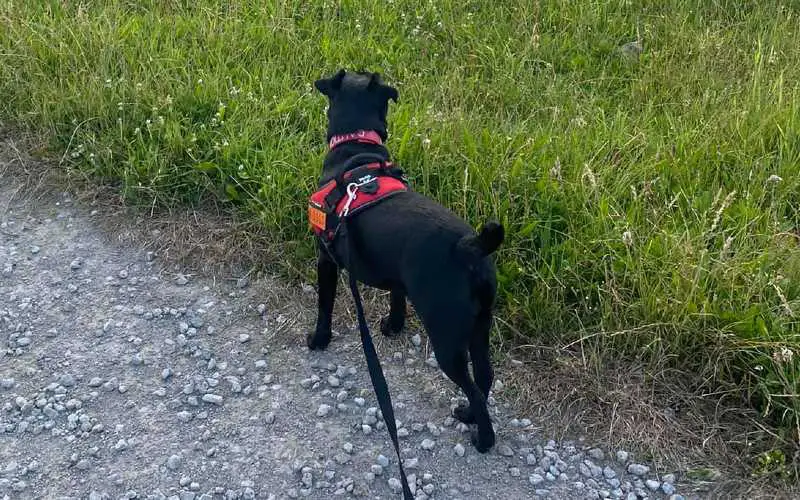 How to Calm a Patterdale Terrier for his Walkies
Your Patterdale terrier may go 'bonkers' when you tell him it's time for walkies or pick up the lead! But your over-excitable pooch will need to learn that the walk does not commence until he is calm. He will need to control his over excitement. There are many ways that you can calm your Patterdale before a walk:
Getting him used to triggers so preparing for walkies becomes normal. This could involve you putting your coat on and then sitting in it to drink a cup of tea! Or picking up the lead then placing it back on the hook! This is 'de-conditioning' – your dog will have learnt the triggers and they set him off, so you are reversing this process to instil calm.
Only put the lead on him when he is sitting down good! If he cannot contain his excitement, then allow the time to 'go berzerk!' and then when he is ready to sit only then can he have his lead put on.
Going out of the door must only happen when he is calm. If your dog is going mental – that door does not open! He will quickly learn that the calmer he is, the faster he will get to go on the walkies.
Encouraging Calm around other Dogs
Your Patterdale terrier should not be meeting other dogs while he is stressed, barking or displaying leash reactivity. Walk him away from the other dog until your Patterdale is calm. Only let him sniff once his demeaner is calmer and as long as you are sure that he is not going to be aggressive.
If you are scared of your Patterdale terrier snapping or being aggressive then you could try muzzle training your terrier. You don't have to make it a bad thing – treat him for wearing it and remember that he doesn't have to wear it all of the time. Once he has calmed down and he is not showing aggression then he can have it removed. A size 2 Baskerville muzzle is great for Patterdale terriers and Jack Russells.
It's always better to introduce your nutty Patterdale to dogs you already know to be good dogs rather than strangers and strange dogs who may snap or attack. Use friends dogs and dog trainers dogs that you know to be well behaved and calm when you first start socialising your Patterdale.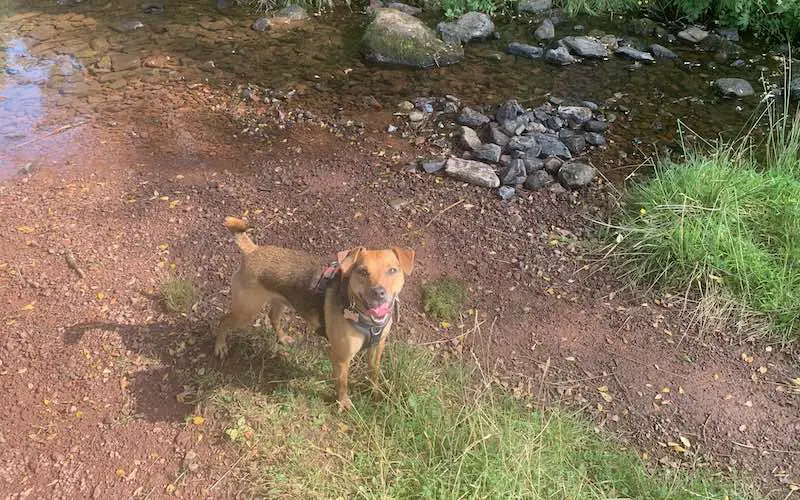 Standing still can trigger the reactivity because your Patterdale may be bored and then focus on the other dog. They tend to do better when they are walking so that there are plenty of smells to be exploring and so pack walks are a good way for Patterdale terriers to meet other dogs.
How to Calm a Patterdale Terrier when you have Visitors
The doorbell or knocking on the door can be a massive trigger for the true rage of the Patterdale terrier! It's basically the evolution from Gizmo to Stripe if you have ever watched the Gremlins! For visitors to your home – and particularly ones that are scared of dogs – this can be an unpleasant and even distressing experience.
There are several training methods and distraction techniques that you can use to make sure that visitors to your home have a positive experience.
Keep the dog shut away from the door area – visitors should not be jumped up or mauled as soon as they walk through your front door. Shut your dog in another room such as the kitchen, allow your visitors to sit down at the table and only when your dog has calmed down he can then be invited to greet.
Arm visitors with treats. They can reward the dog when he is sitting good and this will give your dog a positive association with visitors to your home.
Use diversion techniques – give your dog something to eat or chew while there are strangers in the home. This will allow him to focus on what he is eating rather than the strange visitor. This works particularly well with workmen such as plumbers and electricians who can have lots of tools and appear quite scary to a dog!
Diversion Techniques
Diversion techniques work well when you need to distract your dog from a stressful situation such as visitors to the home, fireworks or being left alone for a few hours. Some of the best diversion techniques we have found include snuffle mats, Kong Extreme and Licky Mats. There are also some great dog puzzles on the market such as the Nina Ottosson Dog Puzzles.
Snuffle Mats
Snuffle Mats for dogs are great because you can hide treats in the rags of the mat and they have to sniff through the fabric to find them!
Licky Mats
Licky mats are a great way to get your dog 'slow eating' and distracted during stressful situations.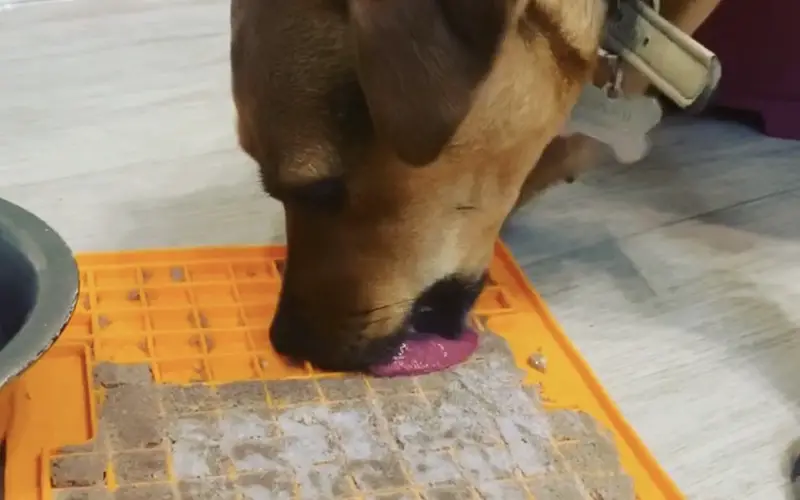 You can smear your dogs favourite meat, mutt butter or even banana or yoghurt on the mat and left him lick it off. You can also freeze it to make it even longer lasting.
You can even get licky mats with suckers that stick to the side of the bath for dogs that get stressed during bathtime!
Kong Extreme
A Kong is one of the most durable and diverse dog toys out there. The Kong Extreme is black Kong – the preferred Kong for heavy chewers such as Patterdales, Staffies and Jack Russells. Stuff with their favourite wet food or treat and freeze like the licky mat to make it last longer. We have used dog pate and cottage cheese in Kongs for Blake and he loves it. Great to give him when he is home alone as they are near indestructible!
Dog Puzzles
Dog puzzles such as the Tornado are great fun for dogs – hide treats inside and they have to find them using their nose and paws. They exercise your dogs body and brain and give your dog something else to focus on in stressful situations.
Remember that, leaving your dog alone with a new toy or licky mat comes with a word of warning – we've had reports from at least 4 Patterdale terrier owners stating their dog actually ate through the licky mat! Only leave your dog alone if you are sure that he won't do this, and you leave your dog alone with any toy at your own risk.
A great option is to get a Furbo dog cam so you can see what he is up to and monitor whether you need to get home in an emergency.