patterdaleterriers.co.uk is a participant in the Amazon Services LLC Associates Program and other affiliate advertising programs designed to provide a means for us to earn fees by linking to Amazon.co.uk and affiliated sites. Affiliate links may be used on this page and in patterdaleterriers.co.uk articles, but they do not impact on the price that you pay and they do help me to get this information to you for free. Read my privacy policy for more information regarding affiliates.
Today we are here to introduce our favourite dog walks in Suffolk, including Dunstable Downs, Alton Water and Lavenham.
Dunstable Downs 
One of my favourite Dog Walks in Suffolk is Dunstable Down, which has a variety of walking paths ranging from 2 miles to 6 miles. You can choose how long you want the walk to be by which path you take. Dunstable is in the Suffolk countryside; therefore, it has stunning picturesque views. The Downs is the highest point in Bedfordshire and has various types of wildlife and flowers which can be seen when walking. There are many circular dog walks to take your dog on and there is an information centre that explains the walks in more detail (signposts are also around). Overall, this dog walk is great for spotting wildlife and for a more peaceful stroll away from the crowds.
Alton Water
Alton Water is situated in the Suffolk countryside and is open all year round. It offers 400 acres of land and is home to various types of wildlife. It is particularly known for its butterfly garden. There are also ponds, but I would not suggest a dog swim in these. They are often quite dirty. The stretch around the water is about 8 miles long and can often get muddy in the winter months so maybe wear wellies. The walk is easy to get to from the carpark and it only charges a small fee.
Hardwick Heath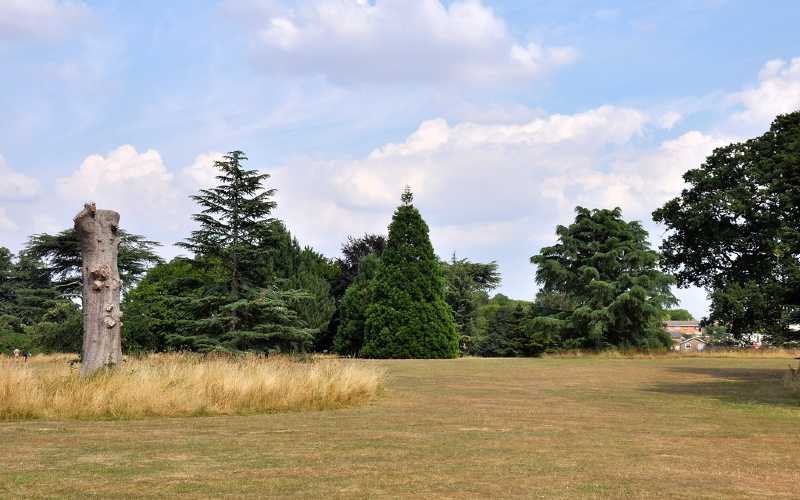 Hardwick Heath is 55 acres of open space where your dog can run free off a lead. There are various routes to take so the duration of your walk is up to you. Some are long some are short. There is a picnic area if you wish to sit down halfway through and enjoy some lunch. Overall, this walk is great if your dog is one that likes to run around freely since it is easy to keep an eye on them and very little safety risks around. 
High Woods Country Park
High Woods Country park includes a lake, woodland, and wildflower meadows. Dogs are required to be put on a lead in the grassier areas between June and September but other than there they can run around freely. There are several dog bins around the park, and waste bags are available at the information centre. The information centre will also be able to give you further advice on the route and the areas to head for.
Side note: For any woodland walk you take your dog on in autumn, you need to be aware of the risk of Seasonal Canine Illness so make sure to keep an eye on your dogs if you suspect they are acting differently. 
Lavenham
Lavenham is a pretty, quiet, and historic village. It is a great place to go walking to avoid any crowds. There are serval dog walks to try here. The main dog route runs are about 5 miles. It is a fairly flat route to take since there are not many hills. One of the most popular routes is one that follows the old railway between Sodbury and Bury St Edmunds. There are all sorts of wildlife to see on your walk since most of the area is rural there is less disturbance on wildlife. Overall, Lavenham has very friendly residents most of which are dog friendly.
If you enjoyed this article on Dog Walks in Suffolk then you might also like to read about dog walks North Wales.