patterdaleterriers.co.uk is a participant in the Amazon Services LLC Associates Program and other affiliate advertising programs designed to provide a means for us to earn fees by linking to Amazon.co.uk and affiliated sites. Affiliate links may be used on this page and in patterdaleterriers.co.uk articles, but they do not impact on the price that you pay and they do help me to get this information to you for free. Read my privacy policy for more information regarding affiliates.
When I decided to write this blog, I thought – this is going to be a really easy one! You see our Blake is a rescue Patterdale and coming from a bad start in life via the RSPCA we knew he was going to be a handful. We are experienced dog owners and could commit the time and money to a good training routine. But still, you will never believe these 5 naughtiest things my Patterdale has ever done….
#1 Ate my Husbands Glasses
One day while we were out he needed to find something to chew on other than his 'hoof' provided. This ended up being his Daddy's glasses. And not even a cheap pair. That night out just added an extra £190 to the bill!!!!
#2 Pinned a Frenchie by the ear!
Blake was going to visit a Frenchie to play in the park. Now Yoda had been a friend of Blakes at doggy daycare and we thought that they were going to be fine together. But he barked in her face and she was Antsy due to being on heat. She went for him, and he retaliated holding her down by the ear! Very strange – he did not tear her ear and the dogs were relatively easy to separate. We think it's the canine version of getting someone in a headlock!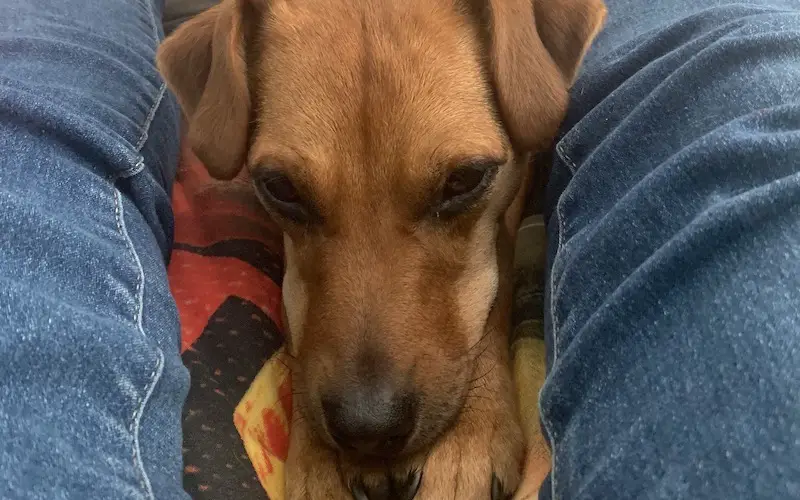 #3 Tried to Bite one of our Best Friends!
When we very first got Blake he was scared of most strange men. Maybe we started to socialise him a bit too soon, but just weeks into getting him we visited friends for a Christmas dinner. He BARKED solid for almost the entire time and went for one of our best friends! Thankfully he was on lead so we could control him. We socialised him in moderation after that! How embarrassing….
#4 Smashed up the Christmas tree Decorations
We adopted Blake at the start of December in time for the Christmas tree. In the early days when we left him, we forgot about the chocs on the tree. of course they had disappeared with just the string to be seen. But Blake's quest continued and he removed even the glass baubles. He took them into his bed and smashed them. Now we saw all of this unfold while we were watching him on Dogcam from the sister in laws. I did a rather loud and bad swear as Sy shot up to drive back to him!!! When we got back Blake was sitting in his bed like butter wouldn't melt, with broken glass baubles surrounding him!!!!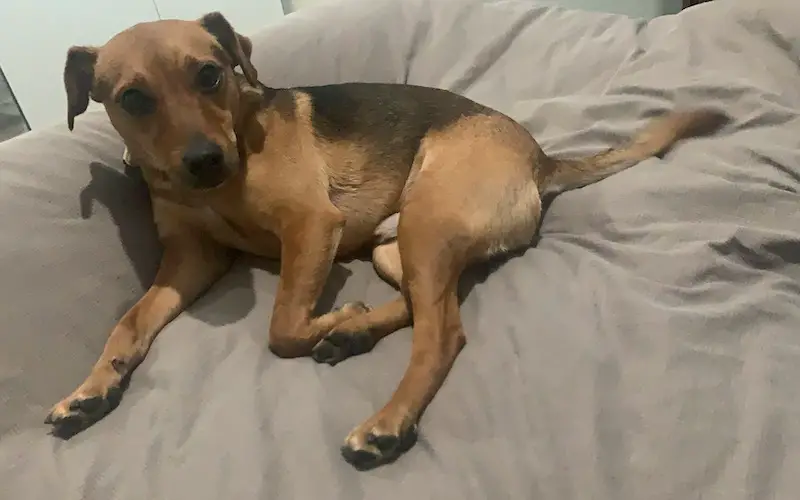 #5 Switched on the Hairdryer – on the BED!
Another left at home story for you. When the parents are away, Blakey will play! Now as he had separation anxiety quite bad, we started to give him the run of the house which did help with that. BUT I forgot to switch off the hairdryer. When we got back the house looked all ok and we walked upstairs thinking it had been a successful outing without him. Sy then said to me 'what's that noise?!' Well he had not only taken the hairdryer onto the best but also SWITCHED IT ON! On the duvet. This could have caused an accident and so every time we leave the house we not only have to empty all the bins but also unplug things as well!
You might also like to read about