patterdaleterriers.co.uk is a participant in the Amazon Services LLC Associates Program and other affiliate advertising programs designed to provide a means for us to earn fees by linking to Amazon.co.uk and affiliated sites. Affiliate links may be used on this page and in patterdaleterriers.co.uk articles, but they do not impact on the price that you pay and they do help me to get this information to you for free. Read my privacy policy for more information regarding affiliates.
Lockdown has been sending poor Blake dog crazy lately. He needs something to focus his energy and keep him occupied. Well this week he was VERY excited to receive a present off his aunty Suzie – his Kong Cruncheez Cow! Now Blake like to open his own post and there was something special about this toy – he just could not wait to get it out of the wrapper!
What are Kong Cruncheez?
Kong Cruncheez are durable dog toys made by Kong. King is our favourite dog toy company because they know how to make dog toys that are not only strong but also exciting for your pooch! They have done a lot of research into what motivates dogs to play and what makes them tick!
These toys are a crunchy plush alternative to squeak toys that fulfil a dogs natural instinct to check. At the same time, the rattle inside sparks excitement.
They are more expensive than standard dog toys, but because he loves it so much and also because it is less easy to destroy and lasts longer, we thing that these Kong dog toys are well worth the money.
Kong Crunchees Cow
We knew that Blake would like these, but we had no idea how much! Because he is a Patterdale terrier he has quite a strong prey drive and the Kong Cruncheez seem to tick the box of satisfying that. Blakes Kong Crunchee is the Cow.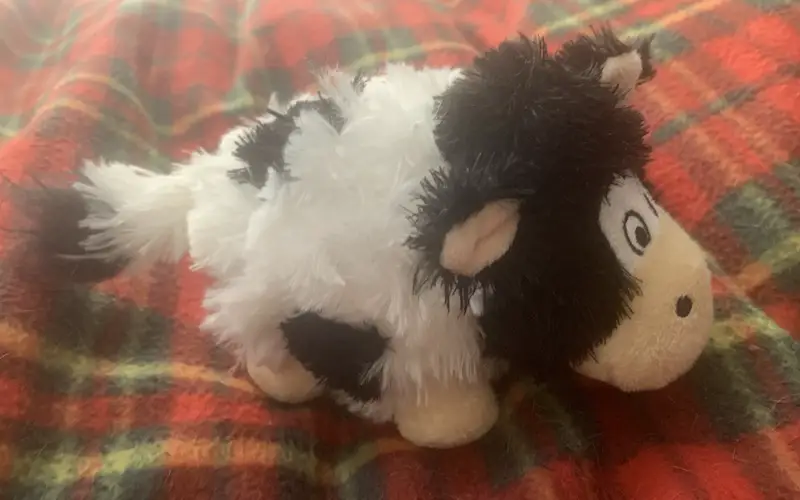 He seems very interested in the crackling and rattling bottle inside, but surprisingly didn't destroy it in 30 seconds flat like he can do with some dog toys!
Blake basically would not let go of his Crunchy Cow for at least an hour after opening it! He actually seemed to get quite possessive of it at times, which he hasn't really done with any other toy! He LOVES his Kong Crunchy Cow!
The cow is a small sized dog toy – the perfect size for a small dog such as a Jack Russell Terrier, Yorkshire terrier or Pomeranian.
There are other Cruncheez available too. In the Kong Barnyard Cruncheez series there is also the Kong Cruncheez pig and the Kong Cruncheez sheep.
Kong Cruncheez Sheep
Blakes friend Alfie the Cairn terrier is partial to the sheep! The sheep is a larger toy and so is also suitable for bigger dogs such as labradors and Dalmatians.
The Kong Cruncheez are available to buy on Amazon for around £9 for the cow and around £12 for the sheep.
There is also a fantastic new range called the Kong Cruncheez Rascals – here's the Kong Rascal Racoon! We hope that Kong just keep coming up with these crazy new dog toy ideas!
If you enjoyed this blog, you might also like to read about another extremely popular Kong dog toy – the Kong Wild Knots bear!