patterdaleterriers.co.uk is a participant in the Amazon Services LLC Associates Program and other affiliate advertising programs designed to provide a means for us to earn fees by linking to Amazon.co.uk and affiliated sites. Affiliate links may be used on this page and in patterdaleterriers.co.uk articles, but they do not impact on the price that you pay and they do help me to get this information to you for free. Read my privacy policy for more information regarding affiliates.
Twelve popular terrier breeds, in no particular order of merit or popularity.  We have sorted them alphabetically to show no favouritism! 
Airedale Terrier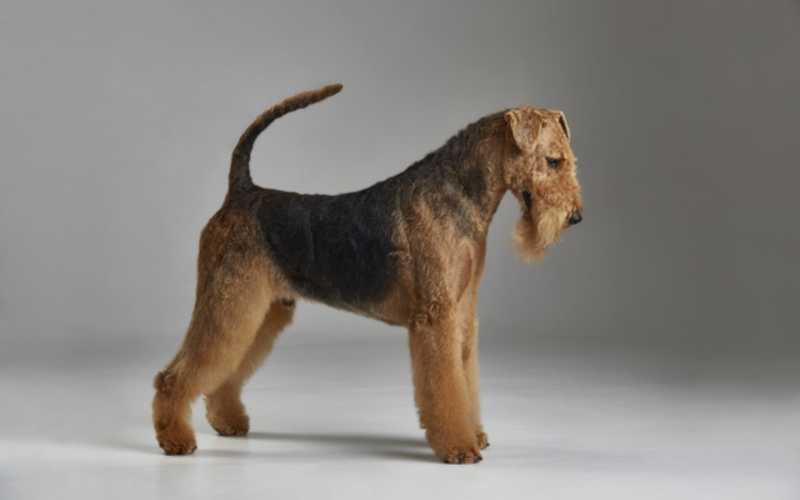 Meet the King of the Popular Terrier Breeds – the Airdale Terrier. Airedale's are significantly taller than other terrier breeds at around 56-59cm for females and 58-61cm for males.  They have a muscular look and their characteristic wiry coat benefits from being a double coat that is waterproof.  They may be taller than other terriers, but the personality is all terrier.  They are bold and outgoing, quick to learn high energy and excel at obedience and agility.
Airedales are an active breed that loves to be busy running or training; their exercise needs are more than an hour a day, frequently two or more hours of exercise being required for younger dogs.  They are excellent scenting and tracking dogs and have often been referred to as the "waterside terrier" due to their role and usefulness at keeping down vermin around rivers.
Bedlington Terrier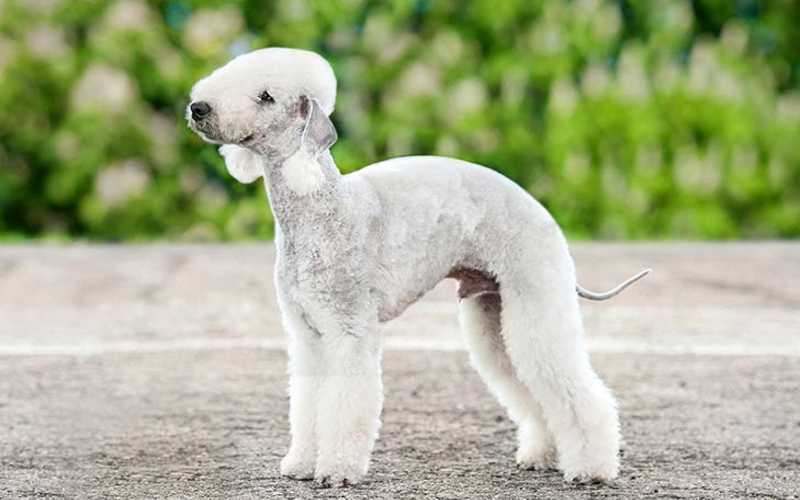 The list is alphabetical, but here we are; the second terrier is also a larger terrier breed than many.  They stand at 38-42cm for females and 41-44cm for males. Bedlington Terriers have a unique appearance due to their wedge-shaped heads and curly coat mostly a pale blue colour and maybe blue and tan, liver, liver and tan, sandy or sandy and tan.  They are tall, with sloping shoulders and a well-proportioned body with muscular hindquarters.  The rear legs appear longer than the front adding to the athletic look of the breed.  
Bedlingtons are loved for their mild, laid back temperaments, they are adaptable and affectionate.  The mild nature should not fool you though; they have a strong prey drive and are excellent hunters.
The Bedlington is often described as having the appearance of a lamb and the heart of a lion.
Border Terrier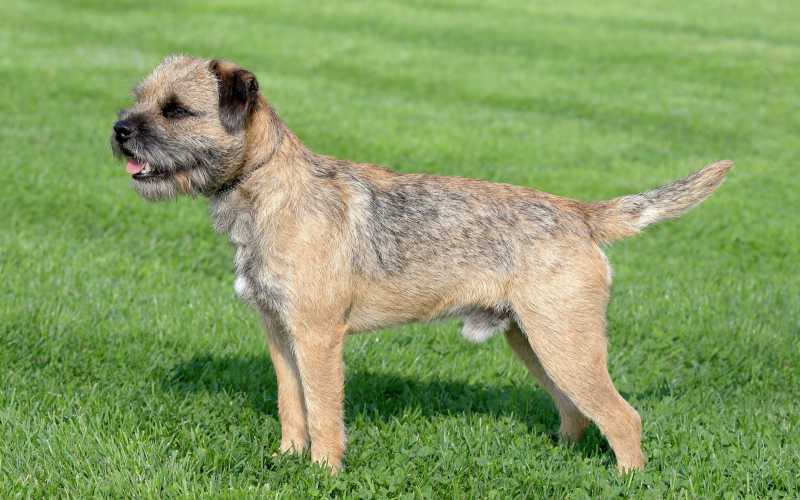 The Border Terrier is notable for its otter-like head, alert expression and their rough and dense coat; mostly a wheaten colour, but variations are tan, blue and tan, red and grizzle.  They are super friendly, affectionate and easy-going.  They can be independent and stubborn, but that is part of their charm.  They socialise well with other dogs and are easier to train than many other terrier breeds to live with other pets in the home.
Don't let their easy-going nature fool you; they tend not to be quite as high energy as Patterdales or the Russell's, but they do still thrive on work.  BT's require more exercise than many would expect for a small dog with younger BT's requiring a minimum of an hour a day split into two or three walks or runs.
Boston Terrier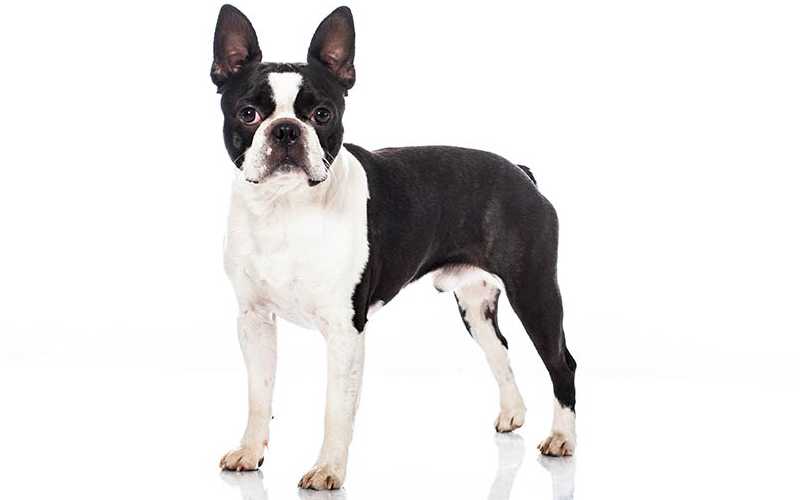 Boston terriers differ from many other terriers due to their short snub nose and large upright ears.  The colours are black and white, brindle and white mahogany brindle and white, seal and white and seal brindle and white.
The kennel club categorises them as a bull breed because they contain bull breed DNA.  They are said to originate from a cross of a bulldog and a white terrier.  As expected, they are named after the US city of Boston, where the breed was developed.
They are intelligent and can be stubborn and share the prey drive of many other terriers.  They love to hang out with their human family and are easy to please and to train.
Cairn Terriers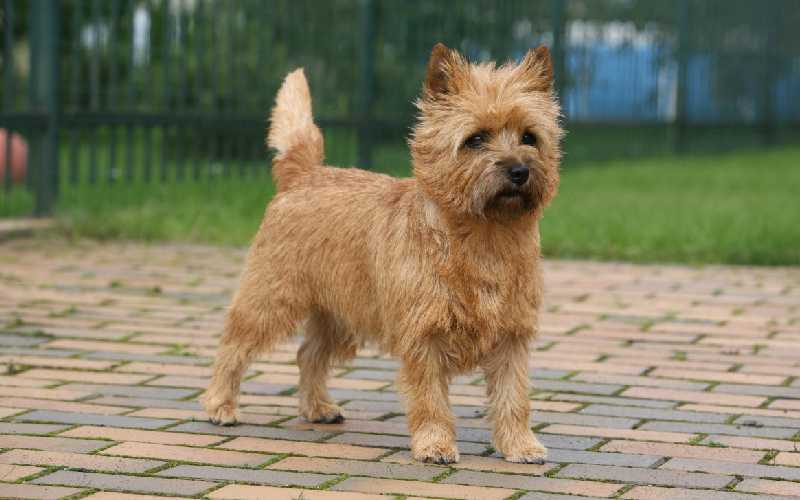 The Cairn terrier is smaller in height than the Patterdale, but a heavier, chunkier little dog.  They are mostly dark brindle, but also come in a variety of other brindle and maybe grey, cream or red.  They are recognisable for their pricked up ears and alert expression. They like to know what's going on and enjoy getting involved.
They are loyal and affectionate, although they do hunt, their prey drive and exercise requirements are less than many other terrier breeds.  They do love to dig the garden up though!
Jack Russell Terrier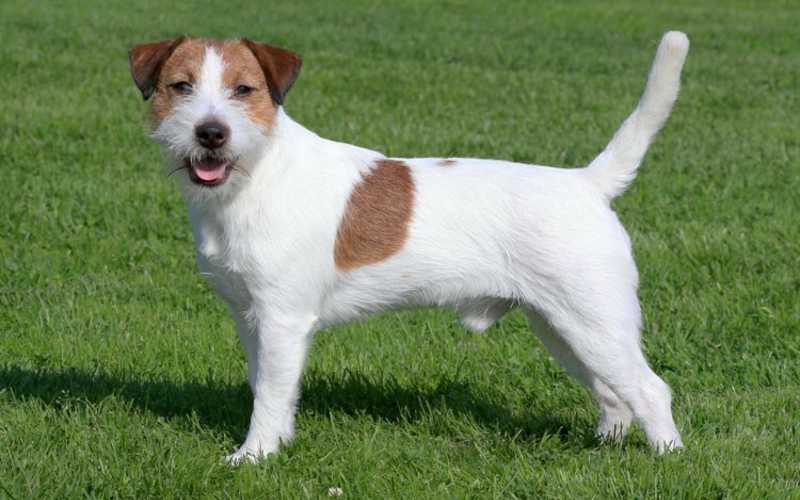 One of the most Popular Terrier Breeds is the Jack Russell – a popular dog for families and hunting. The Jack Russell Terrier is smart, feisty and prey driven.  They don't usually tolerate small furry pets in the home but make great pack dogs in homes where multiple dogs live as long as careful introductions are made.
They are very intelligent, and as long as they want to do it, they are easy to train and benefit from jobs to do that exercise their brain.  The Jack Russell thrives on being important. 
The Jack Russell terrier breed was split during the 1990s when the kennel club added the longer-legged version to their records and created a breed type.  Thereafter the short-legged version retained the Jack Russell name and the longer-legged version underwent a couple of name changes and is now known as the Parsons Russell Terrier. 
Parsons Russell Terrier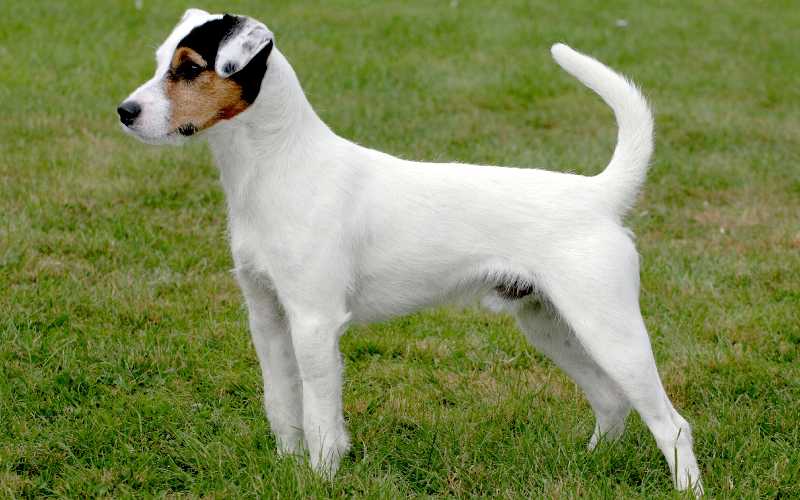 The Parsons Russell Terrier is finer and longer-legged than the Jack Russell, although they share DNA, their temperaments tend to differ as well.  Physically they are one of the most similar breeds to the Patterdale Terrier being about the same size, weight and shape.  Parsons though are mostly white and another colour, which could be any shade of brown, black, tricolour, occasionally they might be primarily brown.  Like Jack Russell's and Patterdales, they can be smooth, long or broken coated.  They have intelligent almond-shaped eyes and an alert stance and expression.  They are "typical" terriers; they enjoy being busy, thrive on work and training.
Patterdale Terrier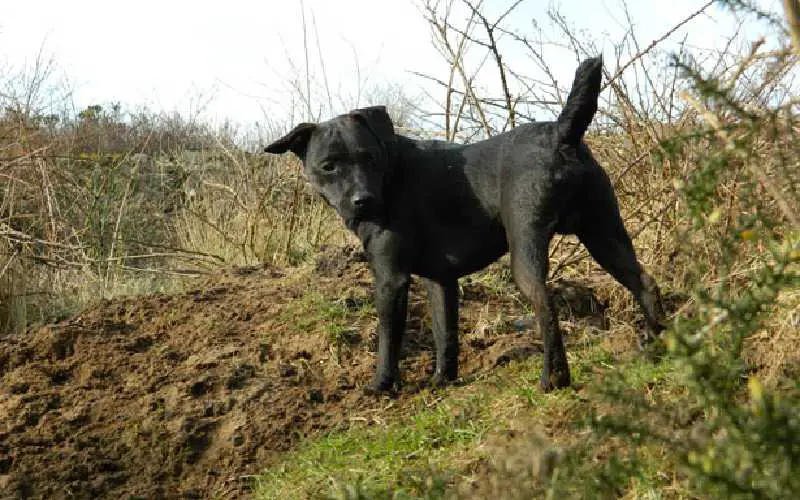 Athletic and active, the Patterdale terrier loves to be out and about and busy.  They are energetic, independent and confident; they excel at active sports.  Patterdales have a high prey drive, Patterdales love to hunt, run and dig. They are loyal and love nothing more than to snuggle with you after a busy day out and about.
Their appearance is that of an athlete, well proportioned, muscled and sleek.  Usually black, they also come in brown, red, black and tan, grizzle or liver colour.  Their coat may be short, broken or rough, and they require minimal grooming.  The athleticism is carried over to the way they move as well, they show power and grace, covering ground easily. 
The Patterdale terrier is one of my favourite Popular Terrier Breeds!
Scottish Terrier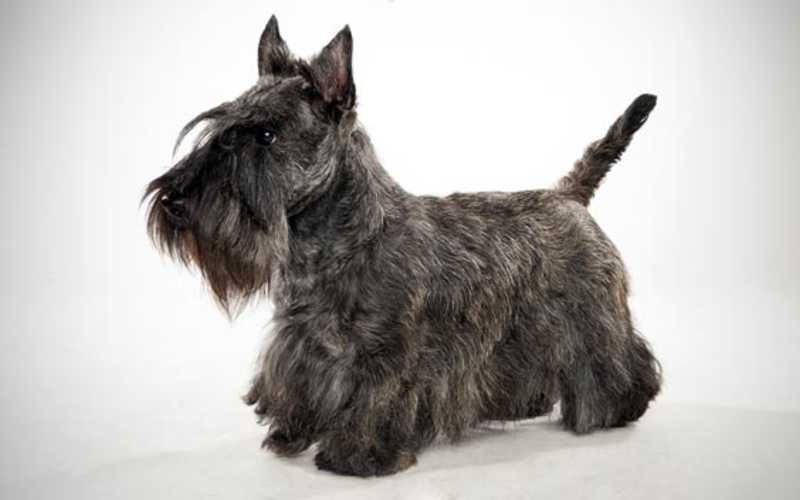 One of the most easily recognisable dogs, Scottish Terriers are a low to the ground substantial terrier that is bigger boned than other terrier breeds.  They have a balanced look, a short back, strong neck and characteristic long face with bushy eyebrows over alert eyes.  They are mostly black; they can also be black brindle, brindle or wheaten, their coat is wiry and maybe kept long or clipped.
The breed dates back to the 1700s, and they are known for their stubborn, independent nature.  They are happy with less exercise than many of the other terrier breeds.  They are known as the Scottie; they're intelligent, loyal and devoted companions. 
Staffordshire Bull Terrier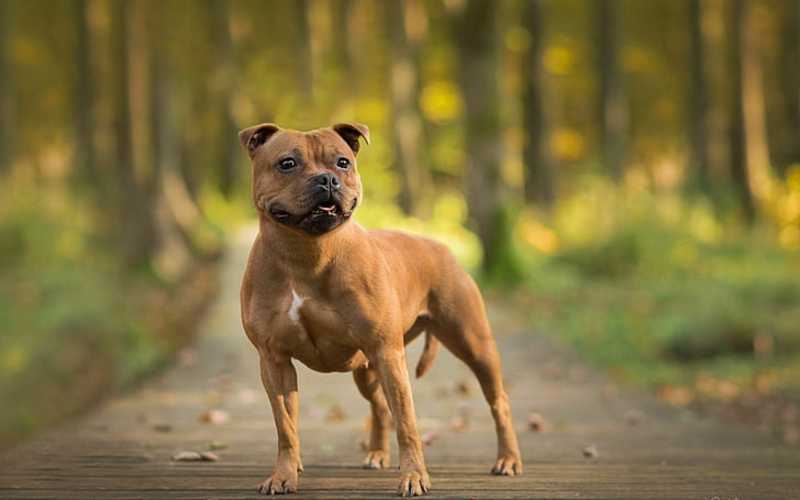 One of the most misunderstood dogs on the planet, that's the staffy.  They are gentle, loving and very loyal.  They were developed to drive the cattle on the hill farms of Staffordshire and developed into a trustworthy guardian for children whilst their parents worked, gaining the nickname "The nanny dog".
They are one of the larger terriers, being intelligent and fearless, and they make great family pets. They are a docile breed that will do anything to please their owner.  They enjoy working and having a job to do. They can socialise with other dogs as long as socialisation training has been undertaken.
Those not familiar with the breed can be taken by surprise by their habit of mouthing as a form of affection.  Much like dogs lick as a show of affection (see Why Does My Dog Lick Me? )  Staffy's will gently grab the arm or hand of people they love to show affection.
Westie Terriers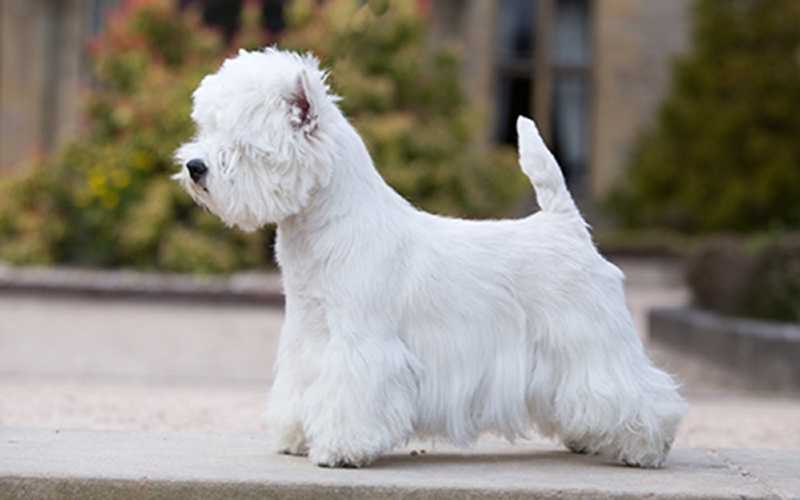 The West Highland White Terrier to give their full name are always white in colour and were originally developed from the Cairn Terrier.  They retain a similar look, being slightly shorter in the body and having a higher tail carriage.
They are independent, yet loyal and love being part of the family.  They are known for their vocal nature and make great watchdogs always being alert to what is going on.  Their exercise requirements are slightly less than a Patterdale, and they do have a prey drive, but not as strong as Patterdales or the Russell breeds.
Yorkshire Terriers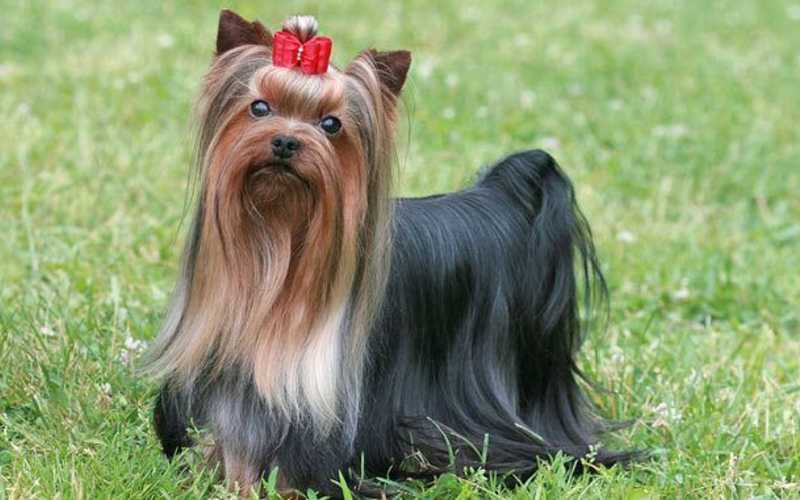 Yorkshire terriers are more than pretty little dogs with ribbons in their hair. They are bold, courageous, little dogs who are inquisitive, smart and lively.  They make excellent little watchdogs.   When bringing other dogs into the home, careful introduction is needed as they are quick to assert themselves when they meet other dogs and introductions are best done away from their home territory.
They will hunt, be fierce to strangers and then curl up meekly on their human's lap.  They have a reputation of being a problematic breed to housetrain, but because they are intelligent, diligent training pays off, and well trained Yorkies are very clean in the house.
If you enjoyed this article on Popular Terrier Breeds then you might also like to read about Patterdale terrier cross dogs such as the Patterjack or Patterpoo. You may also read about Terrier Traits and 7 Steps to Choosing the Best Dog Breed for Your Lifestyle