patterdaleterriers.co.uk is a participant in the Amazon Services LLC Associates Program and other affiliate advertising programs designed to provide a means for us to earn fees by linking to Amazon.co.uk and affiliated sites. Affiliate links may be used on this page and in patterdaleterriers.co.uk articles, but they do not impact on the price that you pay and they do help me to get this information to you for free. Read my privacy policy for more information regarding affiliates.
If you're staying in or near to Cheshire, you cannot miss Delamere Forest. Situated in the Cheshire village of Delamere, the forest covers an area of 972 hectares (2,400 acres) making it the largest area of woodland in England. Delamere forest is perfect for family picnics, dog walks and cyclists. Today's blog is all about the best walks in Delamere Forest.
One Trail Hands Free Dog Lead |...
M&MKPET Dog Water Bottle Portable...
One Trail Hands Free Dog Lead |...
M&MKPET Dog Water Bottle Portable...
This weekend, we headed to Delamere Forest with our Patterdale terrier Blake. He has LOADS of energy and needs plenty of exercise, sniffs and chances to socialise with other dogs. He was so excited in the car on the way that he simply could not contain himself – he loves going in the car because he knows that we are going to end up somewhere very exciting!
We drove to Delamere Forest from Liverpool and the journey took around 40 minutes. If you do this journey, you will probably end up going over the Runcorn bridge which is a toll road – don't forget to pay your Merseyflow! We parked on the Whitefield car park which is massive, plenty of parking spaces and picnic tables. It's a good place to start for the Blakemere trail – which of course we had to do with a dog called Blake!
One Trail Hands Free Dog Lead |...
MADE FOR RUNNERS, BY RUNNERS. THOUGHTFULLY DESIGNED FOR MAXIMUM ENJOYMENT WITH YOUR BEST FRIEND. We combined our favorite features from traditional running belts and hands free leashes to make a lightweight, minimalistic, and ultra comfortable Hands Free Leash. Designed to comfortably run, walk, or hike with your best friend while keeping the necessities close by. Our hands-free dog leash is perfect for you next adventure.
DURABLE, WATER RESISTANT, WASHABLE. Constructed from water resistant fabrics, the waist pack will proetct your belongings from sweat and bad weather. Extra wide, dual adjust nylon straps and heavy duty plastic buckle will make sure your pack stays put through any activity. Features breathable mesh to wick away sweat, and dual adjust straps for the perfect fit, you'll love the convenience of staying active with your best friend using our Hands free Leash!
NO MORE BOUNCING. We designed the waist back to be worn snug at your natural waist. Tighten with dual adjust straps for the perfect, no-bounce fit during vigorous exercise. For more casual activity, pack can be worn low on the hips, either forward or backward. Generous adjustment allows the waist pack to fit 25" to 50" waists. A great fit for every body.
I love this type of canicross belt with bum bag for dog treats and poop bags. It also has a bungee type lead which is good for when you want to be hands free.
Walks in Delamere Forest
There are several amazing walks in Delamere forest that you can do. It is easy to navigate because there are maps in all of the car parks where you can choose which route to do and you can follow the colour of your trail. There are also numbered posts as you walk around the forest so that you can correspond your location with the map. Here are the most popular walks in Delamere forest in order of length/difficulty.
Easi Trail – very easy and good for all abilities – 0.6km – allow 30 minutes
Old Pale Trail – very easy – 3km – allow 1 and a half hours
Linmere Trail – easy – 3.4km – allow 1 and a half hours
Blakemere Trail – easy – 5.8km – allow 2 hours
Whitemore Trail – if you want a bit more of a challenge – Forest Road – 10.5km – allow 3+ hours
Top tip – take a photo of the map on your smartphone before you leave the car park. You can also get a PDF here.
Easi Trail
The Easi trail is a nice short walk (approximately half an hour) which is suitable for all ages including younger children and the elderly. It's also good for those who want to take it nice and slow. This trail starts at the Barnsbridge Car Park.
Old Pale Trail
The Old Pale Trail is a haven for wildlife with a wildflower meadow and a natural ampitheatre. From Old Pale stones viewpoint you can see across 7 different counties with a stone representative of each. For the Old Pale Trail follow the YELLOW footprints. Half way around this trail there is a shortcut back to the car park so if you are already getting tired you can cut the walk short half way through. Allow an hour and a half and start this trail at post number 13 close to the Forest Centre.
Linmere Trail
The Linmere Trail is a nice gentle walk through some of the most beautiful parts of the forest. It takes you past the Gruffalo statue and past part of Blakemore Moss (Lake). This trail starts at the cafe. Follow the GREEN footprints.
Blakemere Trail
This is the route we took. You can either start at the Forest Centre or the Whitefield Car Park which is where we parked. The Whitefield car park is a good place to start because you then have the toilets at the Forest Centre at around the half way point. Park on the Whitefield Car Park and cross over the road. Pick up the Blakemere trail at point number 17. This route takes you all the way around Blakemore Moss Lake. Follow the RED footprints. It took us around two hours with one quick stop halfway.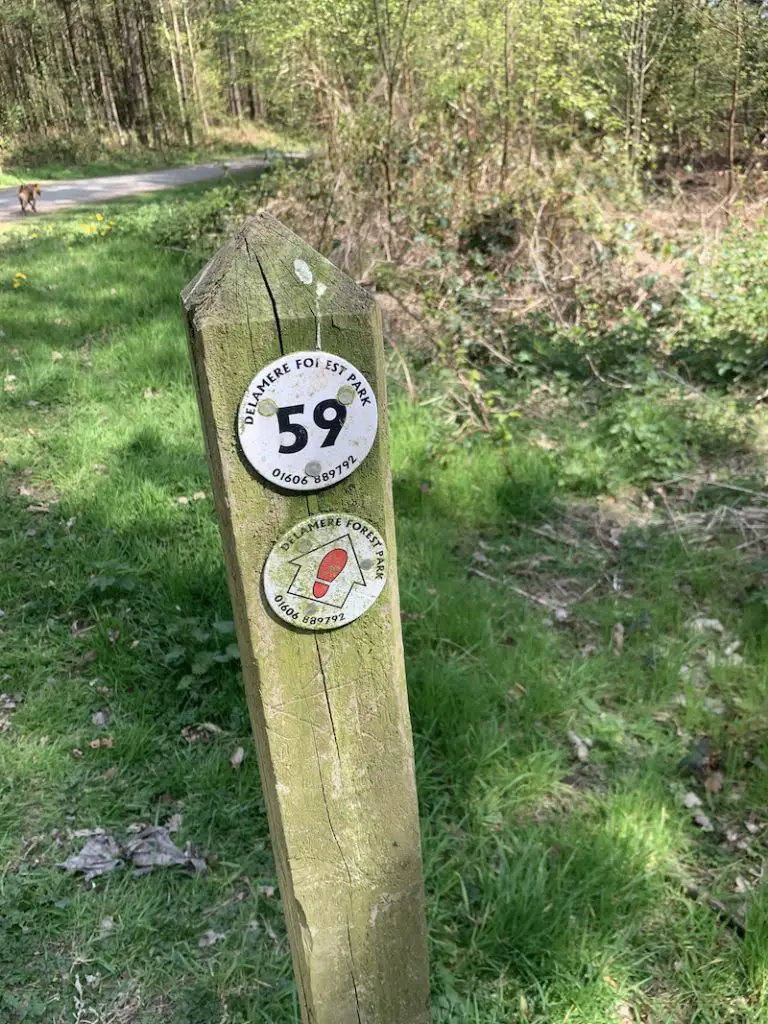 Blue Cycle Trail
There is an alternative BLUE route that is a suitable alternative for those who have already completed the other trails. This is also a good cycle route. Allow an hour and a half cycling or two hours walking. This route takes you past the Barnsbridge Car Park and Walkers Worizit.
Whitemore Trail
If you are looking for more of a challenge and have a full day to spend in the forest then you could follow the Whitemore trail. This is the white cycle path, so beware of cyclists on this route – there will be a few. This takes you around past the Manley Hill Bike Park. Allow at least 3 hours or more for this trail if you are walking.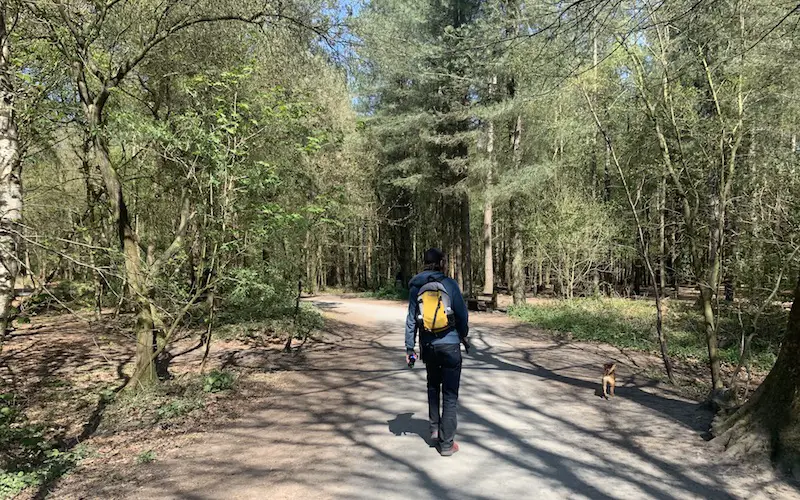 Tips for Delamere Forest Walks
Here are my top tips for Delamere forest:
M&MKPET Dog Water Bottle Portable...
QUICK & CONVENIENT:One-hand operation, easy to feed water
Fresher & Purer Water:Replaceable coconut shell activated carbon greatly adsorb impurities and remove residual chlorine eliminate odor
DURABLE & EXPANDABLE ? Removable top can be washed and easily attached to larger water bottles.18 oz capacity, enough for outdoor walking,hikes, travelling
Take plenty of water for your dog in an easy to use dog dispenser bottle.
Take a fully charged phone and portable battery pack to charge if you run out.
Take a photo of the map on the car park.
Decide which trail you are going to follow so that you know which colour footprints to follow.
Make a note of the post number nearest to where you have parked the car.
Take sandwiches or snacks – there are plenty of picnic tables
Take a short and long or extendable lead for your dog.
Watch out for cyclists along the path.
Take comfortable trainers, walking boots or trail shoes to wear.
Wear light and comfortable clothing such as leggings and T-shirts.
Take a sun hat or cap to protect your head incase it gets too hot.
No products found.
Have you been on any of these walks in Delamere Forest? If so I'd love to hear from you – please comment on our blog below!