patterdaleterriers.co.uk is a participant in the Amazon Services LLC Associates Program and other affiliate advertising programs designed to provide a means for us to earn fees by linking to Amazon.co.uk and affiliated sites. Affiliate links may be used on this page and in patterdaleterriers.co.uk articles, but they do not impact on the price that you pay and they do help me to get this information to you for free. Read my privacy policy for more information regarding affiliates.
WOOF&BREW Anxious Hound Natural Supplement for Dogs - For Calming Nervous & Stressed Dogs
WOOF&BREW Senior Hound Supplement for Dogs Supporting Older Dogs Fitness and Health, 330ml
WOOF&BREW Windy Hound Supplement for Dogs - for Farting Flatulent Dogs, 330 ml
WOOF&BREW Ha-Pee Lawns Herbal Tonic - Helps Prevent Dog Urine Burns on your grass, 330 ml
WOOF&BREW Posh Pooch Dog and Cat Wine– Gift Box (2 x 250ml) – A Unique Christmas and Birthday...
WOOF&BREW Bottom Sniffer Beer for Dogs 330ml (PACK OF 2)
WOOF&BREW Anxious Hound Natural Supplement for Dogs - For Calming Nervous & Stressed Dogs
WOOF&BREW Senior Hound Supplement for Dogs Supporting Older Dogs Fitness and Health, 330ml
WOOF&BREW Windy Hound Supplement for Dogs - for Farting Flatulent Dogs, 330 ml
WOOF&BREW Ha-Pee Lawns Herbal Tonic - Helps Prevent Dog Urine Burns on your grass, 330 ml
WOOF&BREW Posh Pooch Dog and Cat Wine– Gift Box (2 x 250ml) – A Unique Christmas and Birthday...
WOOF&BREW Bottom Sniffer Beer for Dogs 330ml (PACK OF 2)
Woof and Brew are the specialist drinks company that make doggy drinks as well as tonics for anxious and 'windy' hounds. Their main product – Anxious Hound – is a natural daily supplement to help dogs with anxiety. They also do a Senior Hound version for older dogs and a Ha-pee lawn product to prevent urine stains on your garden! But what Woof and Brew is probably most famous for is it's doggy champagne and beer! Yup, dog friendly BOOZE (don't worry – it's non-alcoholic!)! You can order Woof and Brew products directly on their website and also order on Amazon.
Woof and Brew Dog Supplements
Anxious Hound Tonic
Their prime product is the anxious hound tonic which is a natural supplement designed to support healthy mental and physical wellbeing in anxious or nervous dogs. It's developed to help with fireworks, car journeys and general dog anxiety. It's only suitable for dogs over 4 months old and dogs who are pregnant or living with chronic illness or medical conditions should always consult a vet before trying something like this. It's simple to use – just correct number of teaspoons according to the size of your dog on a daily basis and your dog is good to go. Anxious hound is a natural supplement made with natural ingredients including – Astragalus, Devil's Claw, Lavender, skull cap, orange flowers, Rose petals and Lime Flowers. New customers can get 50% off their first bottle when signing up for a subscription via the website.
Senior Hound
Senior Hound is a natural daily supplement designed to help older dogs with their joints, ligaments and muscles. It's ingredients are 100% natural herbs develop with the advice of vets to help ageing brains and support circulation.
Windy Hound
Yup – you guessed it, they do tonics for farty dogs!! This Windy Hound herbal supplement will help to calm your dog's digestive tract and disperse flatulence. Allelujah!
Ha-Pee Lawns
Ha-Pee is a food supplement that prevents your dogs urine from staining the lawn. It's a natural herbal ingredients to benefit your dog's well-being and help maintain a healthy urinary tract. remember that this is a food supplement and does NOT go on the lawn directly! Simply add the recommended amount to your dogs food or water.
Woof and Brew Drinks for Dogs
Woof and Brew have a fantastic selection of drinks for dogs including Woof and Brew tea for dogs, Posh Pooch wine for dogs, Bottom Sniffer beer for dogs and PAWsecco!
Dog Tea
Woof and Brew do a fantastic selection of herbal teas that are safe for dogs. Blake's favourite is the Earl Greyhound! They also do Bark Jeeling and Lapdog Souchong!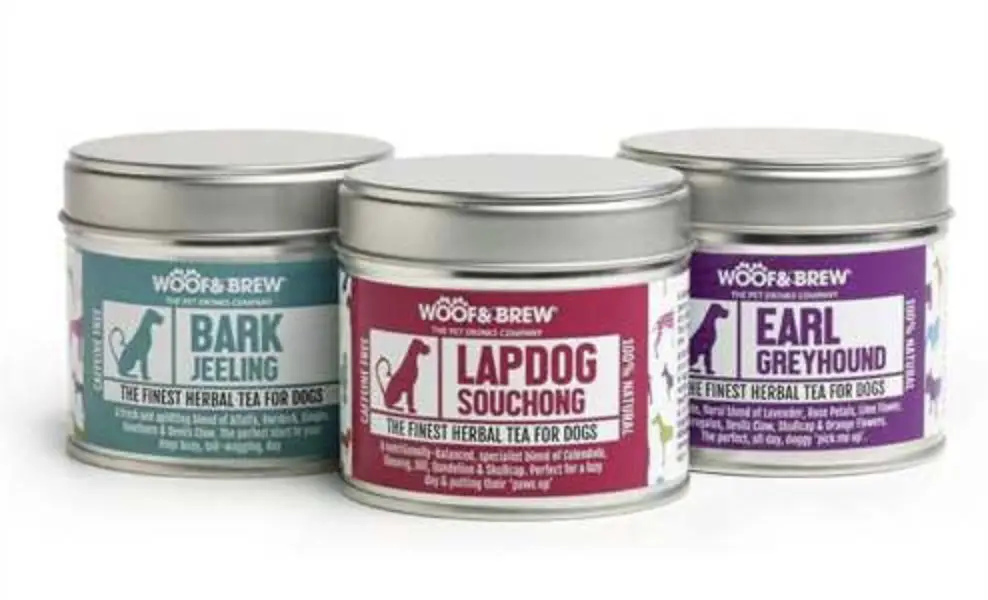 The Woof and Brew dog tea is developed with veterinary experts and packed with vitamins, minerals and anti-oxidants.
You can buy a gift pack with all three teas to try – you'd be barking mad not to get it! You can pour it over food or give it to your pet as a drink – whatever he or she prefers.
Wine for Dogs
The Posh Pooch wine for dogs is for the classiest canines – when water is just not enough! It can be used as a treat or for that special occasion such as birthdays and New Year! Posh pooch wine is non-alcoholic and non-carbonated and packed with vitamins minerals and anti-oxidants. It's available in white and rose!
Beer for Dogs
Bottoms up! This bottom sniffer beer is great for your dog as a non-alcoholic treat on special occasions. It's got a natural chicken flavouring (mmmmmm) and contains nettle which is good for coats and skin. It also contains dandelion which is an excellent anti-oxidant.
If one or two is not enough, there's always the option to go for a crate of dog beer! This is fantastic if you would like to keep a supply for your pooch or if you are having a pooch party!
Pawsecco
And now for the classiest pooches – the famous Woof and Brew Pawsecco. Pawsecco is a non-alcoholic specially developed beverage for dogs designed so that you can raise a glass with your four legged friend! Pawsecco is made in Britain and is a specialised blend of Elderflower, Nettle, Ginseng and Lime flower.
If you are looking for a cooling treat for your dogs in hot weather, check out the doggy ice pops also by Woof and Brew – the Paw Pops!
Looking for more special treats for your dog? Read our article on Whimzees chews!
Also you might like to read about some of our favourite dog bandanas.
You might like to read about Dog Tea