patterdaleterriers.co.uk is a participant in the Amazon Services LLC Associates Program and other affiliate advertising programs designed to provide a means for us to earn fees by linking to Amazon.co.uk and affiliated sites. Affiliate links may be used on this page and in patterdaleterriers.co.uk articles, but they do not impact on the price that you pay and they do help me to get this information to you for free. Read my privacy policy for more information regarding affiliates.
We all know how important dental care is for our own teeth. For a dog who relies on his/her teeth for quite a few things in its everyday life, having strong, healthy teeth is paramount. Canine dental care is an important aspect of your dog's hygiene, but getting a dog's teeth to stay clean can be challenging, nevermind improving their breath. That is why Netherlands based company WHIMZEES has been committed to developing the most effective, all-natural dental chews for dogs since they were established in 2013. 
The company's stance is that they treat the world with care so consumers know that they are working with a company that cares about the planet and has been actively reducing energy use for over a decade by leveraging manufacturing techniques and machinery that use 40% less energy and allow 90% waste composting. They reuse heat inside production facilities and work on not releasing any wanted energy into the environment. The company uses water-saving techniques, energy-efficient LED lighting, uses environmentally friendly refrigeration and minimizes air and noise pollution emitted from their factories.
The idea is quite brilliant. Provide the dog with a tool that he/she can use to help upkeep its own dental hygiene. With its variety of dental health chews, WHIMZEES is engaged in producing products that contain no artificial ingredients, flavors, or additives. There is a wide variety of shapes to choose from when selecting a WHIMZEES chew snack. 
Let's take a look at some of the products developed by WHIMZEES to help our four-legged friends have fun and keep a healthy set of teeth all at the same time.
Table could not be displayed.
WHIMZEES Alligators
My patterdale Blake's personal favorite is the WHIMZEES alligator. These natural dental treats for dogs are shaped like an alligator and help dogs fight tartar, remove plaque, and support healthy teeth and gum lines.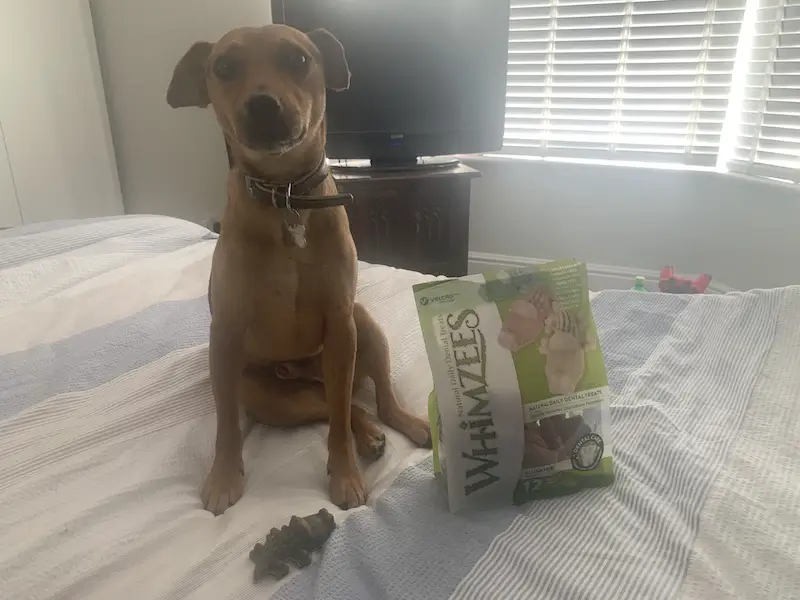 The product is gluten-free and is made with all-natural ingredients. The ingredients include potato starch, powdered cellulose, yeast, lecithin, and glycerin. Some color is added to the product. This product comes in three sizes: small, medium, and large. It can be found as sold in multipacks will keep your dog occupied for a good period while helping them maintain dental hygiene.
WHIMZEES Hedgehogs
Herman the Hedgehog is a popular dog chew with owners and their pets. Dogs adore the idea of a little hedgehog to play with that won't prick them or run off, so they have fun for hours. This grain-free, vegetarian dental chew is a great pick for dogs who have food sensitivities. The knobby shape of the hedgehog will promote active chewing, increasing blood flow through gums and reduces the chances of tartar. The inside is hollow, allowing the dog to be able to grip the toy and chew it while getting teeth through grooves where the toy can get to smaller spaces in between teeth.  
The product has no artificial ingredients, colors, flavors, preservatives, gluten, meat, or GMOs. It is also low in fat and rich in vitamins and antioxidants, as well as fiber to promote great digestion. It comes in large and extra-large sizes.
WHIMZEES Dental Sticks
The product that is most direct, simple, yet effective is the WHIMZEES dental stick. It's a basic concept of a chew snack in the form of a stick, often sold in larger sizes to ensure product longevity. The knobby shape helps enhance gum blood flow and fight tartar buildup. Its texture is palatable to dogs who will be satisfied nibbling on it for hours at a time.
The product contains no added preservatives or artificial flavors. The ingredients include powdered cellulose, potato starch, yeast, malt extract, and lupine. The product contains no meat, sugar, or gluten. Aside from helping a dog's dental needs, the product is rich in fiber and low in fat, to help ensure healthy digestion. 
These products come in different variety packs and multiple sizes including extra small, small, medium, large, and extra-large.
WHIMZEES Bones
It might be a classic stereotype, but dogs sure like chewing on bones. What they will like even more is chewing on WHIMZEES bones. These edible, vegetarian, grain-free dental chews are rich in vitamins and antioxidants and high in fiber. The rigid texture helps remove tartar and plaque from the dog's teeth and fights bacteria that cause bad breath, and the unique grooves help work the small spaces between teeth.
As with other WHIMZEES products, the rice bone has no artificial components or preservatives. The rice bones come in one standard size.
WHIMZEES Toothbrush
Perhaps this product is a bit too on the nose, but it doesn't mean your dog won't love giving it a lot of attention. While doing so they are going to perform the triple service of helping prevent tartar development, removal of plaque, and improvement of your dog's breath. 
Due to its shape and structure, these edible dog toothbrushes will last 3 times longer than most other chew snacks. The toothbrush chews are low in fat and sugar-free, with a list of ingredients limited to only natural components. They are hypoallergenic for those dogs with allergic sensitivities. Their unique shape and structure allow the product to get between the dog's teeth and get to hard to reach places.
WHIMZEES Veggie Sausage 
Your puppies will love the delicious and nutritious veggie sausage from WHIMZEES. The product is vegetable-based, edible, and is conducive to reaching between a dog's teeth to battle plaque build-up and avoid tartar with its uniquely shaped grooves.
The product is low in fat and rich in antioxidants and vitamins to promote great immunity. The fiber content will help a dog of any age have better, healthier digestion. Your dog can enjoy this chewable product in either a small, large, or extra-large sizes. 
WHIMZEES Variety Packs
Let variety be the spice of life…specifically, your dog's life. Instead of just one choice of dental treatment, let your dog enjoy the suspense of getting a different treat every time he/she has completed "work" and maintenance of their own dental hygiene on the previous one. Dogs will not tire of the hours of snacking on these tasty snacks and will enjoy the variety that comes in the assortment variety packs. 
If you enjoyed this Whimzees chew review you might also like to read….