patterdaleterriers.co.uk is a participant in the Amazon Services LLC Associates Program and other affiliate advertising programs designed to provide a means for us to earn fees by linking to Amazon.co.uk and affiliated sites. Affiliate links may be used on this page and in patterdaleterriers.co.uk articles, but they do not impact on the price that you pay and they do help me to get this information to you for free. Read my privacy policy for more information regarding affiliates.
Blake's a very lucky boy this week, because he received a pack of Whimzees alligators from his auntie Suzie! Now, we hadn't seen these before, but I've got to admit they look damn cool! There are many other reasons for dogs to love them…
WHIMZEES Natural Dental Dog Chews...
Whimzees Alligator Display Medium...
WHIMZEES Natural Dental Dog Chews...
Whimzees Alligator Display Medium...
What are Whimzees Alligators?
Whimzees alligators are alligator shaped natural daily dental treats for dogs, and so they are great for dental care helping with cleaner teeth and fresher breath for your pooch. They are healthy and made from only natural ingredients. They are made by 'Paragon Pet Products' and are…
Vegetarian
Grain Free
Gluten Free
GMO Free
Different Sizes of Whimzees Alligators
They come in different sizes for different dogs and we found the Medium perfect for Patterdales and other terriers and Spaniels. Small is great for Chihuahua's and pugs and the large would be great for Labaradors and Great Danes.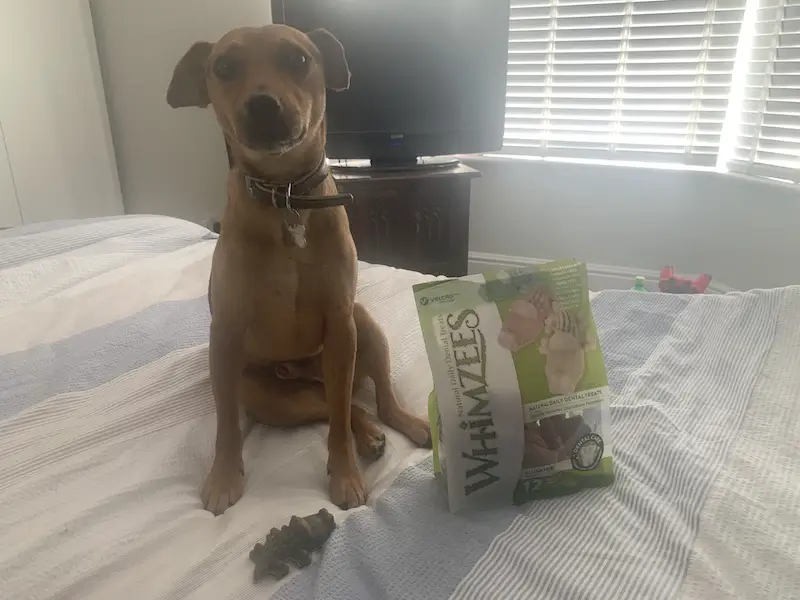 What we loved!
The Whimzees alligators come in a velcro pack so they are easy to store and reseal. There are three colours – beige, orange and green – a bit like tri-colour spaghetti! But most importantly, Blake the rescue Patterdale absolutely LOVED these! He was so excited about his first Whimzee alligator that he couldn't even sit down and contain his excitement! They must smell amazing to them! Blake took his straight in his bed and it kept him happily chewing away fro about 20 minutes! This makes them a great distraction for your dog if you have to get work done or you have visitors.
Where to buy Whimzees Alligators
You can buy Whimzees Alligators online – order them from Amazon and they will be with you in a couple of days – faster if you order with Prime. They come in packs of 6 (large), 12 (medium) or 24 (small).
WHIMZEES Natural Dental Dog Chews...
Daily dental dog treats designed to remove plaque and prevent tartar, 2x more effective than the leading treat
Triple Care: Natural dog treats to remove plaque, avoid tartar and provide fresh breath
Natural dog chews & hypoallergenic dog dental chews for daily use and a good alternative to dog bones: Low-fat & vegetarian dog treats, sugar free and a limited list of ingredients
If you like to order your dog treats in bulk you can order a box of 75 medium on amazon.
Follow this link to find out more about Whimzees chews!
If you enjoyed this blog you might also like to read this