patterdaleterriers.co.uk is a participant in the Amazon Services LLC Associates Program and other affiliate advertising programs designed to provide a means for us to earn fees by linking to Amazon.co.uk and affiliated sites. Affiliate links may be used on this page and in patterdaleterriers.co.uk articles, but they do not impact on the price that you pay and they do help me to get this information to you for free. Read my privacy policy for more information regarding affiliates.
Today we are here to introduce the best Dog walks in Derbyshire, including Buxton country park and Chatsworth house.
Elvaston Country Park
This park has over 200 acres of woodland, parkland, and gardens and is perfect for a quiet dog walk. The area is very open, and the walk starts near the large carpark (which is a pay and display). It can be quite muddy, but the lake is great if your dogs like going for a swim. There is a castle called Elvaston Castle where the grounds are immaculate and well looked after. There are many events that take place throughout the year so it may be a place you return to on specific days. However, you should be aware of regular horse riders when walking your dog. After your dog walk, there is a café nearby if after your walk you are peckish.
Goyt Valley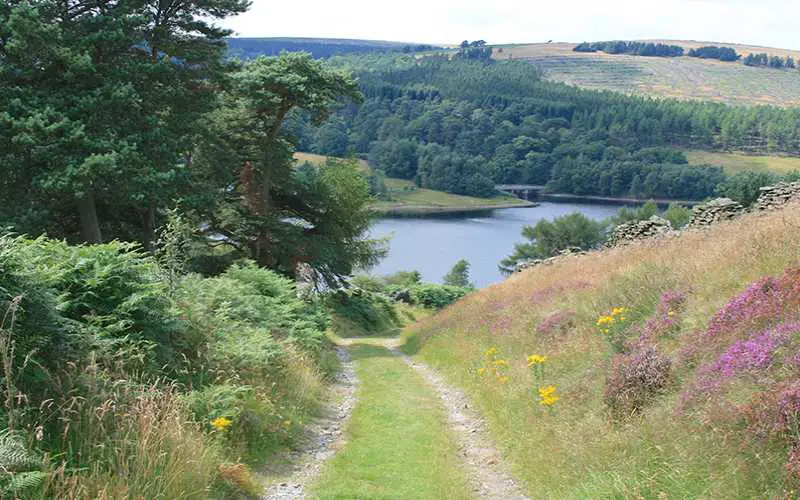 This dog walk has reservoirs, moorland, wooded hillsides, and gritstone edges. You can walk around the perimeter of the Erwood and Fernilee reservoirs. The riverside is about 1 mile, Errwood Hall is 1 mile and Fernilee reservoir (which also has a woodland) is about 4 miles. Therefore, you can choose how far you want your dog walk to be. There are a few more trials if you are feeling more adventurous. Goyt Valley has everything a dog could want and there is plenty of free parking nearby. The views are amazingly however there are not any waste bins nearby.
Buxton Country Park
In Buxton Country Park there are some woods for your dog to explore called the Grinlow Woods. Here you can find rare flowers and various types of woodland life. From there it is a 20 minute walk to the summit of Grin Hill were Solomon's Temple lies. This was built in the 1890s and is a sight to see. The view is of the High Peak and is great to take a photo.  
Chatsworth House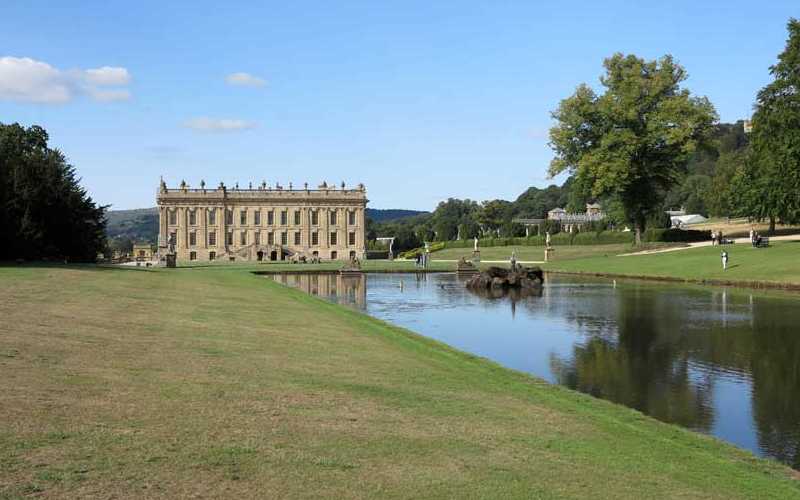 The regal Chatsworth House surrounded by a huge estate is a very scenic place for a dog walk. Your dog can pretty explore almost anywhere apart from the house and the farmyard. Therefore, there are 1400 acres of estate and 105 acres of garden to explore with your dog. In addition, there are shops and a restaurant nearby for a rest and a snack after a long walk together. 
Side note: Stand Woods is an area you can enter if you want to venture out to more of a forest walk. It depends on your personal preference.
Carsington and The Miners Arms
This dog walk is very popular and has a huge stretch of water.
It is a good walking and cycling path. We parked at the Sheepwell car park, north of the Water. Parking was £3.00 for the day at Sheepwell carpark. It takes people on average 5 hours to complete. There are many birds and often people are sailing closeby. The reservoirs are huge with gravel paths for walking and cycling all the way around for 7 miles, also have 2 other shorter walks for those who want a shorter walk. 
There is also a small ice cream shop (for you and your dog) and toilets across the causeway. 
Side note: The 7 mile walk has quite a few steep slopes and is a hilly walk.
If you enjoyed this article about dog walks in Derbyshire then you might also like to read about: