patterdaleterriers.co.uk is a participant in the Amazon Services LLC Associates Program and other affiliate advertising programs designed to provide a means for us to earn fees by linking to Amazon.co.uk and affiliated sites. Affiliate links may be used on this page and in patterdaleterriers.co.uk articles, but they do not impact on the price that you pay and they do help me to get this information to you for free. Read my privacy policy for more information regarding affiliates.
Terriers are renowned for pulling on the lead and being a bit of a challenge when trying to teach lead manners! After all, they were bred to run free and hunt. It's important of course for your dog to get off lead exercise, but ultimately your dog will need to learn to walk on a leash for situations such as street walks, going to the vets and going from the house to the car. A Halti training lead can really helped with your dog's lead manners.
Introducing the Halti training lead
The Halti training lead has trigger clips on both end making it versalite and adjustable. It's a sturdy training lead and we use this type of lead in Blake's lead manners class because you can attach it to both the dog harness and the dogs collar at the same time and hold it securely in the middle, like you see here in this Instagram video:
This means that the Halti training lead is an excellent option for dogs who pull because the bulk of the pulling can be taken on their back but you still have the ability to control the dogs head because the other end of the lead will be attached to the dogs collar. The collar is the place where the dog will feel the tugs to refocus him/her and stop the pulling, so it is important not to do lead manners with your dog on a harness only. We use a training lead along with the perfect fit harness.
For walkies that are compression walks where you dog is going to have a sniff and explore in a more relaxed environment, you can use the Halti training lead as one long lead. Attach it to your dogs harness and then make a handle using the clip at the other end, so he can enjoy his walk like with plenty of slack this…
You can also use it on the collar only and 'double it up' to make the lead shorter, like how you see it being used on this dalmation….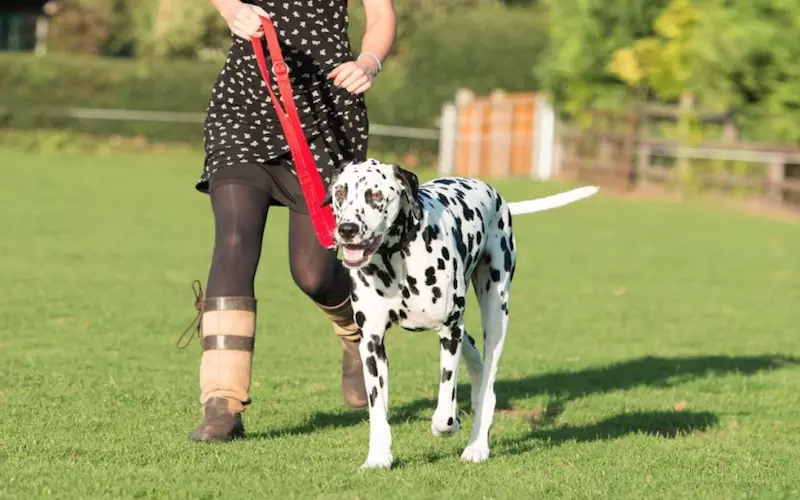 In fact, the Halti can be used in 7 different ways in total…
Short length for heel training or normal walking
Medium length for obedience training
Long length for recall or distance work
Hands-free dog training – clip to your dog walking belt
Two dogs on one lead – making use of the double ended trigger hook
Easy, supervised tethering
Double steering for optimum HALTI control
You can get the Halti training lead on Amazon in Red or Black and also there are two different sizes available depending on the needs of you and your dog.
Advantages of the Halti Training Lead
Strong and Durable
Secure clips on both ends
Clips can attach twice (split lead) on the collar and harness to give more control
Adjustable lead length using clips
Easy to handle
Been on a muddy walk and need to wash your dog?! Check out the Mud Daddy dog wash!
You might also like to read about Will my Patterdale ever go off Lead?