patterdaleterriers.co.uk is a participant in the Amazon Services LLC Associates Program and other affiliate advertising programs designed to provide a means for us to earn fees by linking to Amazon.co.uk and affiliated sites. Affiliate links may be used on this page and in patterdaleterriers.co.uk articles, but they do not impact on the price that you pay and they do help me to get this information to you for free. Read my privacy policy for more information regarding affiliates.
The Perfect Fit harness is a fantastic walking aid for any dog that is overly stimulated on walks or seems to have a Houdini-like ability to slip out of collars and harnesses. The harness comes in a variety of sizes, can be adjusted in up to five places and pieces can be replaced individually when needed rather than purchasing a whole new harness.
The modular three-piece design allows for a snug and comfortable fit and is easy to put on without having to pass over the dog's head. The chest piece also comes with a D-ring as standard alongside a D-ring on the back piece. This is an added advantage for those dogs who jump around. Using the D-ring on the chest as well as the back-piece ring allows for greater control of the dog's front legs, rather than providing him with added momentum.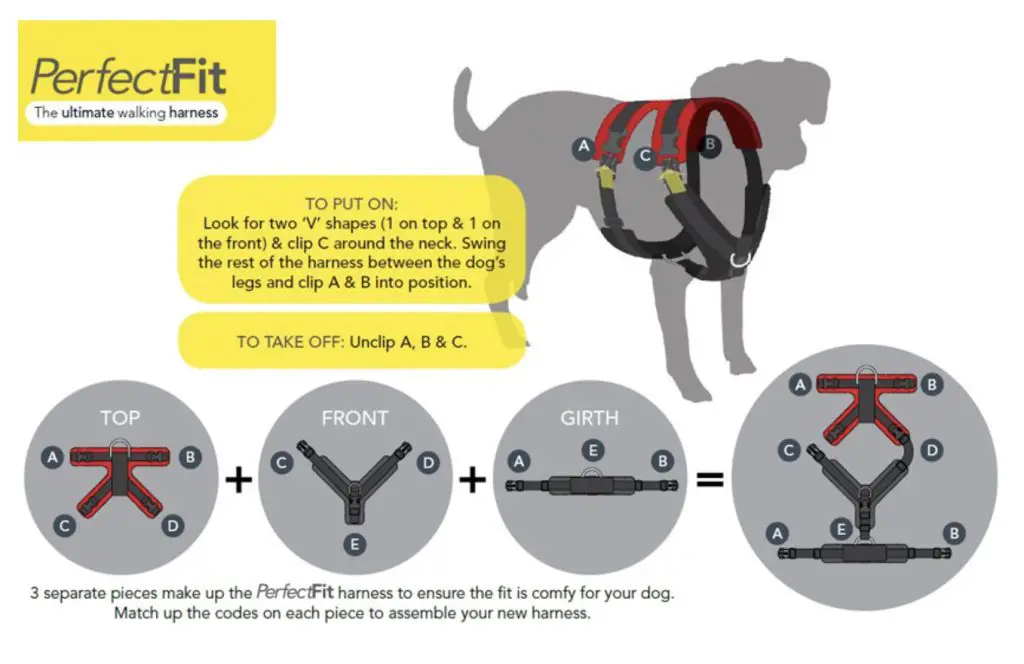 For puppies, the smaller front piece options have been designed without adjustment possible. This means there is no risk of the puppy being able to drop their head to chew on the harness. This lack of shoulder adjustment is also suitable for tri-paws (amputees) and helps ensure they cannot wriggle free of their harness.
Each piece has three size ranges: 15mm, 20mm and 40mm with a number of options in each of these ranges. By measuring your dog around this belly, just behind his armpits, you can get the correct size range for the girth piece. Depending on his chest size, you can mix different size ranges of front pieces to attach the girth piece to. The top piece needs to fit snugly across the dogs back and comes in the following colours:
Black
Reflective black
Royal blue
Sky blue
Jade
Green
Hi-vis orange
Hi-vis yellow
Pink
Purple
Red
Wine red
Rainbow
In total there are 28 different sized pieces that can be combined to create a harness that is the perfect fit for your dog's size and shape. The front and girth pieces are only available in black, however, there are a wide range of colour options for the top piece.
As well as UK design, all components, labour and materials are sourced in the UK. The harness is created with a fleece lining to protect the dog's skin from rubbing against the clips. The pieces are also designed to be adjustable as your dog grows to avoid the need to keep buying new harnesses.
The small size was perfect for Blake our Patterdale Terrier. He has the high vis yellow, a red and a purple back piece so that he is snazzy and change his look!
Something I'd like to add is that the front bit of his harness started to frey significantly after around 18 months. I does pull crazily and wears it everyday so this could well be classed as wear and tear, but do check your dogs harness regularly. With this harness you can buy the new sections individually.
Another alternative to consider if you want something more sturdy is the Julius K-9 harness available on Amazon.
Julius-K9 IDC-Powerharness with K9...
Size: Chest circumference: 71-96 cm, Weight of the dog: 28-40 kg. For more products please visit our Amazon Storefront!
Professional control for urban walks: IDC Powerharness is your dog harness for bustling days, early morning walks, and getting around safely. It is a harness you can fit in one move and count on when you need it.
Interchangeable hook & loop patches: You can choose from countless different patch options to express your dog's personality, mood, or to display useful information on your harness.
You might also be interested in reading our Burns dog food review.
You might also like to read about: