patterdaleterriers.co.uk is a participant in the Amazon Services LLC Associates Program and other affiliate advertising programs designed to provide a means for us to earn fees by linking to Amazon.co.uk and affiliated sites. Affiliate links may be used on this page and in patterdaleterriers.co.uk articles, but they do not impact on the price that you pay and they do help me to get this information to you for free. Read my privacy policy for more information regarding affiliates.
There are some really beautiful dog walks in Staffordshire including one of my all-time favourites Kinver Edge. The county of Staffordshire is situated just North of Birmingham. We hope that you enjoy some of these wonderful dog walks with your pooch.
Kinver Edge 
This is a National Trust walk and there are various footpaths to explore with your dog. Each walk varies in completion time, but you can choose a short walk to Hillfort if you want a quick walk. For a longer walk you can go to Nanny's Rock. This walk goes into the woods so your dog will be able to have a sniff around. 
South Staffordshire Railway Walk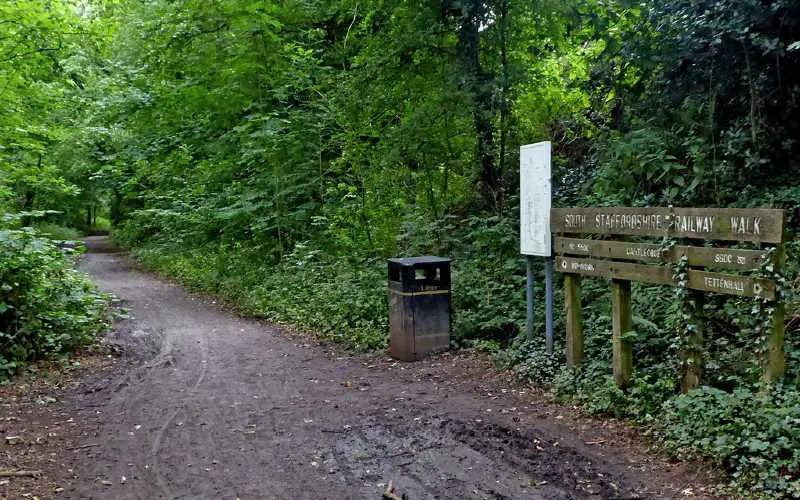 This walk is around 5.5 miles in total. It is overall quite a gentle walk.
It starts atThe Railway Café and there is free parking attached to the cafe but please check times for closing of the car park. From here you can walk around 2 miles until you get to the Market Lane bridge, where there are street art paintings of dogs. As soon as you pass under the bridge there are some wooden steps up the bank. Once you go up these you will be on Langley Road-this area is quite busy. 
Keep walking to Dimmingsdale Road Bridge and join the canal path to Dimmingsdale Garden. You can then join the path across the road by the side of the bridge and go along the canal which is around 2 miles long along the Staffordshire and Worcester canal path until you reach Bratch Locks. This is a lovely flat walk. Once you reach Bratch Lock the walk is nearly over and you will approach the carpark. 
Keele University Forest 
This walk is on the Keele University campus and starts once you pass the Keele Hall. If you go left at Keele Hall and follow the path down to the pond you will enter the woodlands. There are various paths to take and there is a pond and a couple of rivers throughout the walk. You can even see a few small waterfalls if you take the left path. There are various other dog walkers that come here so your dog is sure to find friends along the way. Additionally, if you are someone who geocaches then there are a few to find in the forest.
Cannock Chase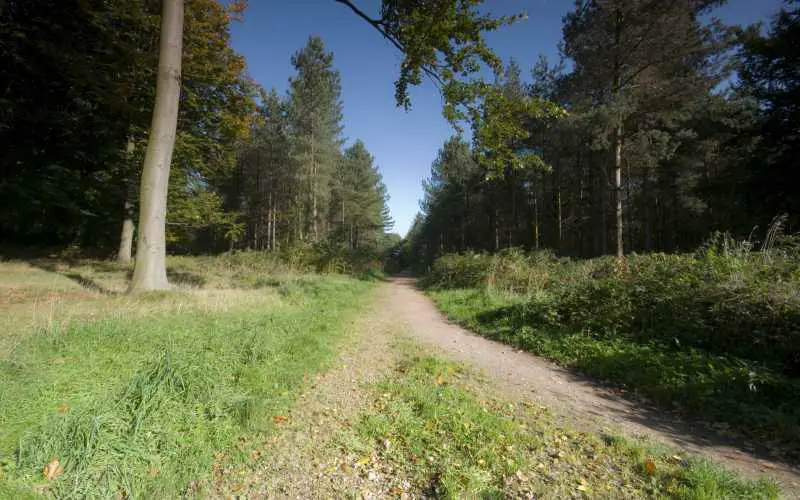 There are many dogs walks through Cannock Chase and this walk is around 26 square miles in total. On this walk, there is a mixture of woodland, coniferous plantations, and open heath-land. This dog walk is through an area that has been designated as an Area of Outstanding Natural Beauty, so it is quite a popular dog walk for the locals. The Chase has smaller free car parks all around the area, these provide perfect starts to the quieter areas to walk with your dog. You can access one of these smaller car parks off the A513 near Seven Springs. If you choose this route then there are natural springs and an open glade perfect for picnic to enjoy.
Trentham Park
This park is a popular place to go with families and is near the monkey forest. It is a huge open space with various paths to take. The park is relatively flat and there is free parking on site. In the middle of the estate is a large lake where many families take a photo. Normally, people take the circular lakeside walk all away around it, and this is around 2 miles. You will go past the River Trent and past Lakeside Café then onto the woodlands where dogs love to play. Additionally, there is a dog-friendly shopping village on the Trentham Estate if you wish to have a browse around.
If you enjoyed this article on Dog Walks in Staffordshire you might also like to read about the best dog walks in Derbyshire.