patterdaleterriers.co.uk is a participant in the Amazon Services LLC Associates Program and other affiliate advertising programs designed to provide a means for us to earn fees by linking to Amazon.co.uk and affiliated sites. Affiliate links may be used on this page and in patterdaleterriers.co.uk articles, but they do not impact on the price that you pay and they do help me to get this information to you for free. Read my privacy policy for more information regarding affiliates.
If your Patterdale is anything like mine they'll love treats.  Actually, I think it is fair to say that most dogs love treats.  Here we are going to look at the value of treats and more importantly how to use the higher values of favourite treats for training and safety. Introducing the best high value dog treats!
Wagg Training Treats with Chicken...
Pedigree Schmackos Poultry Mix -...
Dragonfly Products Grain Free Dog...
Pets Purest Natural Dog Treat Chews...
Wagg Training Treats with Chicken...
Pedigree Schmackos Poultry Mix -...
Dragonfly Products Grain Free Dog...
Pets Purest Natural Dog Treat Chews...
Using High Value Dog Treats
When training a young dog and especially when you know you are going to be facing challenges that they are going to find hard, it pays to have a good, ready supply of their favourite treats.  Think of the different treats as different currency values; reserve the favourites for the hardest or most challenging situations.  They are the £20 treats.  Pieces of human food biscuits as occasional treats or £10 value treats and some things that they do like a lot as everyday or £1 treats. 
The other way they work as currency is literally that; they are the payment your dog works for.  From the dogs point of view the treats are a type of gig economy the harder and more complicated tasks earn them the most, while the standard everyday tasks earn, average income.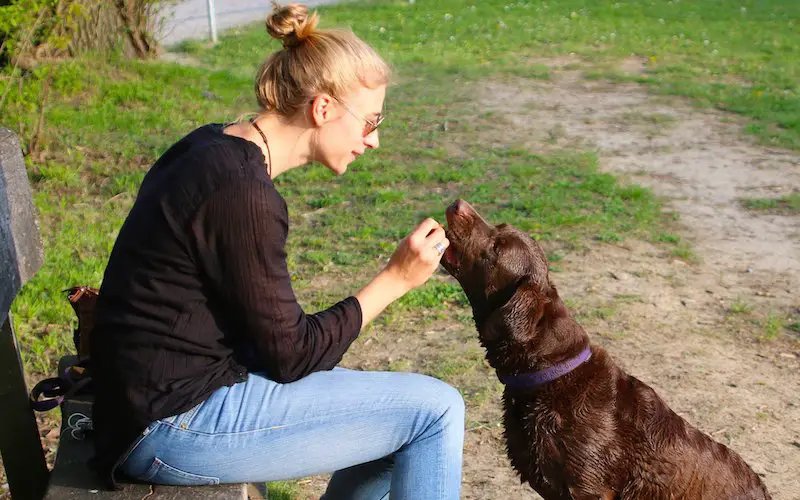 Ideas for High Value Dog Treats
It's a good idea to start by making a list of four to five treats and rate them from one to five.  Start with one being the most valuable.
For example my dogs list currently looks like this:
Cooked sausage chunks
Cooked chicken pieces
Wagg treats, they love the chicken and cheese
Milk bones
Home made liver cake pieces
Sale
Other things you might include in your own list are things like:
Bits of beef 
Pieces of ham
Liver chunks
Pieces of Schmackos
Milk Bones
Sale
Pedigree Schmackos Poultry Mix -...
Pedigree Schmackos are delicious tender strips that are full of meaty flavours, designed to be a healthy and nutritional treat, made for training and rewarding
Packed with dog-friendly ingredients and a great taste, Schmackos are a soft and scrumptious treat that your pet will love
Each Schmackos chew has less than 30 calories and includes calcium to help keep your canine friend's bones strong
Other brands and flavours of treats
Your high value treats are something that your dog really loves and goes crazy for.  It will not be something they usually have.  It's the food treat reserved for the highest rewards.  
So, you will have the everyday treats, the general training treats, the occasional treats and the most desirable treats that you only use when your dog needs extra incentive at times of high distraction or for a really important task.
Some excellent brands include Lily's Kitchen, pedigree, Dragonfly and Wagg.
Dragonfly Products Grain Free Dog...
✔ NATURAL & HEALTHY - Our poultry treats are grain & gluten free, healthy and natural, containing just 80% poultry, 20% potato & sweet potato and chicken stock. Great for use as puppy treats from 8 weeks onwards. Our treats are dried to a crunchy texture so they are not messy to carry in your pocket and small enough to give as a quick, high value training reward
✔ GRAIN FREE - Unlike other training treats for reward made with cheap grains, our treats are grain, wheat and gluten free. Dogs cannot fully digest grains so grain-free treats help with digestion, give them a shinier coat, more energy, less weight-gain, less shedding, better breath, healthier skin, less poo for a happy and healthy dog
✔ SUITABLE FOR RAW FED DOGS - As there is nothing besides Poultry, Potato and Stock in our training treats, they are suitable for those following a raw feeding or barf diet as well as a traditional dry dog food diet
The Emergency Whistle or Word
It's a useful tool when you start teaching your dog recall and it is something that you never know when you will need in a real emergency.
If you choose to use a whistle, then you will need to carry the whistle with you whenever you are out with your dog, therefore a specific word is usually the best option.  So, I will assume you are using a word.  Choose a word that you will remember and won't otherwise use.
When training, use the word for recall and use plenty of praise and the highest value treat only when they come to that word.  Continue to use other treats and praise when they come to your usual trigger word.  You want to establish that it is really important to come straight away to that word.  Once the training is in place, occasionally use the word for recall when you have the favourite treat to ensure that the word remains relevant.
I've heard stories of this working when a dog has run out in a strange place to get them back from near a road or to recall a dog from hunting in the woods.  Used appropriately, it could save your dog's life.
Other times to use the highest currency treats are for things like training new things and you need to incentivise the dog, especially in group sessions where they are easily distracted by the other dogs.  This is also the case when training for agility or even to distract your terrier at terrier shows or racing where your high value treats will help to get the attention onto you.  They can be extremely useful when rehabilitating rescue dogs especially when working to overcome fearfulness.
Buying High Value Dog Treats
There are many dog treats available to buy in pet stores and online.  It is worth considering that there is usually more choice online, and it is also easier to browse the ingredients, compare prices and check for any undesirable ingredients or additives as well as any that are particularly desirable.
Pets Purest Natural Dog Treat Chews...
RAW & HEALTHY DOG TREATS: Treat your canine to a delicious reward snack that isn't associated with the problems of unhealthier dog chew products. Pork & Beef are the only ingredients making it a perfect pet safe alternative for a good boy or girl
JUNK FREE: There are no additives, colourings, preservatives, sugar or grain in our all natural dog chews. Itching, digestive pain, obesity and allergic reactions are all symptoms that can be associated with unhealthy doggie treats, but not ours
100% NATURAL: Unlike rawhide chews that use chemical based air drying for reduced drying times, we use a chemical free air drying process that is better for furry best friends. You can have total peace of mind with our dog friendly healthy treats
Depending on the individual dog it may be necessary to avoid grains, certain meats and be aware of the calories. I tend to look for no added sugar and no or low quantity of colour and flavourings, when buying dog treats.  I also like to get my dog's seal of approval and then repeat purchase!
You might like to read about healthy puppy treats.