patterdaleterriers.co.uk is a participant in the Amazon Services LLC Associates Program and other affiliate advertising programs designed to provide a means for us to earn fees by linking to Amazon.co.uk and affiliated sites. Affiliate links may be used on this page and in patterdaleterriers.co.uk articles, but they do not impact on the price that you pay and they do help me to get this information to you for free. Read my privacy policy for more information regarding affiliates.
If you have a dog like mine who is constantly pulling, you might want to consider using a head halter with your dogs lead. A head halter is beneficial for dogs who pull and also dogs who get easily distracted because it redirects their whole head, you are not just controlling your dog from the neck or back. In today's blog we are going to explore the benefits of head halters as well as seek out the best head collar for dogs.
What is a dog Head Halter?
A head halter is a special kind of attachment which has one strap that goes over your dogs muzzle and another strap that goes around the back of his/her neck. The lead attaches to the head halter and you then control your dog from his head – rather than neck if he is on a collar or back if he is on a harness.
Benefits of using a Dog Head Halter
A dog head halter is good for teaching your dog positive habits. It will minimise forward motion and therefore can reduce pulling. You can also do a slight upward tug that will encourage your dog to close his/her mouth rather than mouthing or biting.
If your dog is triggered by staring at other dogs then you can use the halter to redirect his head early on before it escalates into a massive barking fit! Usually if you take the dogs eyes off the target quick enough you can then speed up the pace of the walk to minimise his reaction to another dog.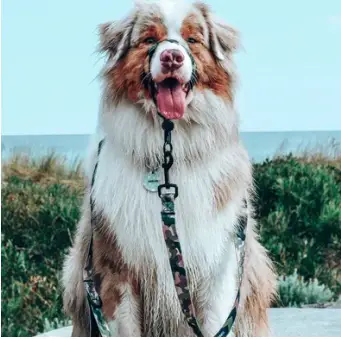 Getting your dog used to a head halter
There has been some controversy of the use of dog head halters. Some people say that they are cruel. Head halters are not harmful or painful for dogs if used correctly.
However, the first time that your dog wears one, you will need to get him used to it. For a dog that has never worn a head collar before, it could be a little strange and even a little scary for him the first time it is introduced.
Reward him with treats when he has his halter fitted for the first few times and this should be just around the house at first. You can also fit your dogs halter for limited amounts of time initially and increase your dogs time wearing it slowly to get him used to it.
Fit the head collar without the lead initially. Include lots of praise and treats when he is wearing it. He may paw at it or rub his nose when he is wearing it for the first time. Only progress to using the head collar outside and with the lead attached once he is comfortable with the first stage.
What is the best head collar for Dogs?
There are many reputable brands out there. But what is the best head collar for dogs? First and foremost, you want to look for a brand that has strong material and links so that your dogs head collar does not come loose. The other most important thing is fit – try it on your dog before you buy it if you can – many professional pet stores will help with fitting.
Halti – The Best Head Collar for dogs
The best head collar for dogs that we have come across is the Halti head collar which you can buy on Amazon. This comfortable and secure harness is perfect for no-pull dog training.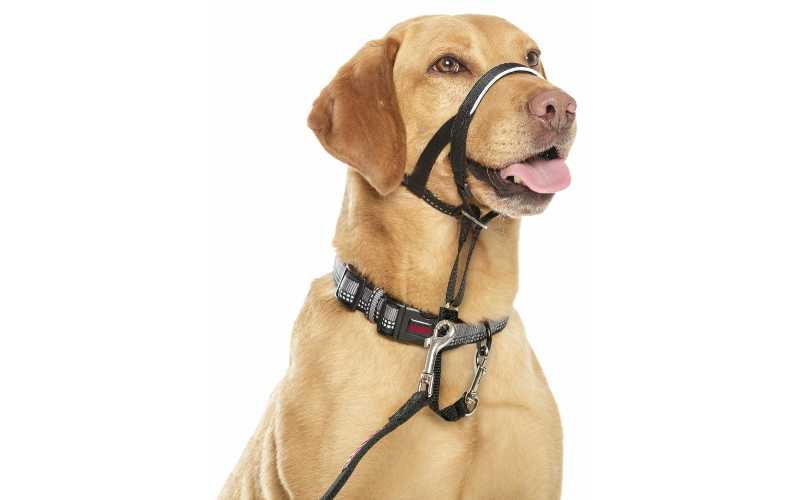 Gentle Leader by Beaphar
The gentle leader head collar by Beaphar is recommended by vets around the world. It is made from a soft weave nylon, making it extremely comfortable. This head collar is also easy to fit because it uses an easy fasten clip which offers a fast release.
Beaphar GENTLE LEADER FOR LARGE...
Beaphar Canac Gentle Leader Dog Headcollar is a unique patented design preferred by many leading trainers, vets and behaviourists around the world.
The Gentle Leader Headcollar is made of a soft weave nylon material, this unique headcollar is extremely comfortable and easy to fit, using an easy fasten clip which offers a fast release.
It offers a simple yet effective way to help train your dog to stop pulling on the lead.
Stylish Hound Head Collars
Stylish Hound are an Australian company that specialise in halter collars for dogs. They come in many different sizes and colours. These halters will keep your dog looking good as well as under control!
Goodboy Head Collar for dogs
Another good option is the Goodboy head collar for dogs. It is padded and comes in 4 different sizes and 5 different colours. The Goodboy head collar is easily adjustable and comes with a one year warranty.
GoodBoy Dog Head Halter with Safety...
Prevents pulling – The GoodBoy Head Halter is a comfortable and humane way to prevent your dog from pulling on the leash during walks and other situations that require control. The head halter fits around your dog's head and nose (similar to a horse's halter). It is not for use as a muzzle. This prevents choking and reduces your dog's urge to pull. By using a headcollar like this one, you get maximum steering efficiency. Walking your dog becomes safer and more pleasant for both you and your dog.
Comfortable and safe – Unlike other headcollars, the GoodBoy Head Halter is designed with soft neoprene and padded for maximum comfort for your pet. It offers a safety strap that attaches to your dog's regular collar at the back of the neck - no more dangling safety straps. It has durable nylon straps and strong stitching. Our design features additional reflective stitching to help keep dogs of all sizes safe.
Easily adjustable and secure fit – A quick release buckle and adjustable fit make this quality harness a secure solution to unwanted behavior with your pet's safety in mind. It provides a plastic clip under the chin to easily adjust the loop for the snout. Adjustable side straps (size 1 does not have adjustable side straps) and an adjustable neck strap make for a better and more secure fit. This ensures that the halter does not slide off easily and makes it easy to put on any dog.
Other reputable types of head collar include Petsafe and Dogmatic.
It is important to remember that a head collar is not a device that will solve your dogs pulling and behavioural problems alone. It needs to be used properly and in conjunction with positive reinforcement dog training methods.
You might also like to read: Help! I can't stop my dog pulling on a lead!