patterdaleterriers.co.uk is a participant in the Amazon Services LLC Associates Program and other affiliate advertising programs designed to provide a means for us to earn fees by linking to Amazon.co.uk and affiliated sites. Affiliate links may be used on this page and in patterdaleterriers.co.uk articles, but they do not impact on the price that you pay and they do help me to get this information to you for free. Read my privacy policy for more information regarding affiliates.
This week, we have tried and tested Waterman's luxury dog shampoo. Now, Waterman's is actually a brand that specialises in human hair products….but they certainly got this luxury dog shampoo right!
Introducing Waterman's luxury dog shampoo
Waterman's have developed this specially formulated PH balancing pet shampoo that can be used on both dogs and cats. It is enriched with nourishing ingredients and is designed to hydrate and cleanse your pets fur and skin. The anti-fur fall technology, dandruff, hair loss and skin diseases that lead to an unhappy pet.
Watermans Luxury Pet Shampoo 250ml...
🐩 Anti fur fall technology 🐾 Tested by humans NOT on animals 🐶 🐴 🐈 Essential Natural Oil Blends, Expect Superb Gloss Coat Shine, Itch Relief and Skin Healing
🌿 Contains Black Seed Oil, Neem, Sea Buckthorn this Dog Shampoo For Itchy Skin Antibacterial & Anti-fungal natural ingredients, replace your normal animal shampoo with UK made premium formulas that kind and gentle for all pets
💧 PH Balanced ready to use suitable for all breeds, Sensitive shampoo for dogs and other animals.
Ingredients
Waterman's luxury dog shampoo contains Neem, Black Seed Oil, and Sea Buckthorn. Because of these natural ingredients Waterman's Dog Shampoo is perfect for soothing Itchy Skin. It also contains antibacterial and anti-fungal natural ingredients.
Benefits of Waterman's Luxury Dog Shampoo
Natural Ingredients
Vegan
Prevents fleas
PH Balanced
Bubblegum Scent
Sulphate free – no harmful parabens
Blake's Verdict
Now, Blake dog is a crazy Patterdale terrier, and he is not the world's biggest fan of being bathed. But, he tolerated it! And when he came out of his Waterman's dog shampoo bath, he smelt of sweet bubblegum scent!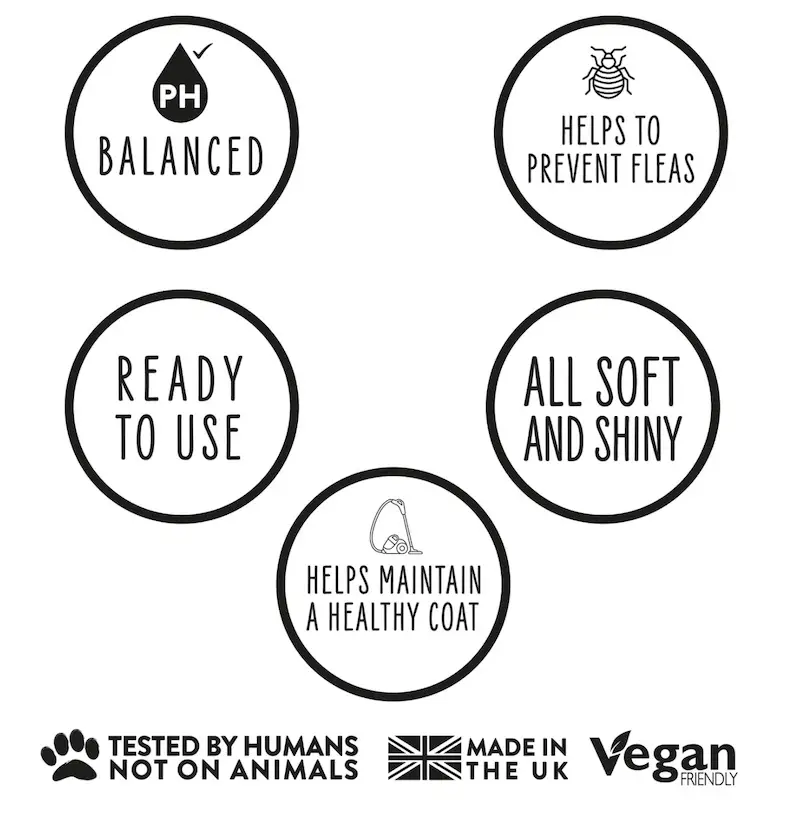 So, why not replace your normal animal shampoo with UK made premium formulas that kind and gentle for all pets?
Bathing your Dog Q and A
Why do I need to bath my dog?
Dogs don't keep themselves clean naturally like cats do, so it is more likely that you will need to bath your dog more frequently than your cat! Bathing your dog is also an opportunity to check his coat for fleas and ticks.
How often should I bath my dog?
You should bath your dog approximately every 3 months. Any more frequent would not be pleasant or necessary for your dog.
Do dogs like being bathed?
It really depends on the dog! My second Jack Russell, Suzy absolutely hated it and would cling onto the door frame with her dear life to avoid the bath! But my third Jack Russell, Milo – he absolutely loved it and would drink the running water from the tap while he was in it!
What is the best way to bath your dog?
Use a Luke warm shower rather than a deep bath. Massage the dog shampoo into your pets body first and then rinse down the legs, leaving the head until last (it will make him shake!).
While bathing your dog, look out for small black dots coming off in the water – these could be fleas. The flea shampoo will help, but you may also want to consider another flea treatment such as a flea collar or spot on. Remember to leave it a day or two after bathing before using these.
What happens after the bath is complete?!?!
Make sure that you have a towel at the ready. Expect some 'zoomies' at the end of the bath which is your dog 'letting off steam!' Also you may find your dog dragging themselves along the carpet to dry off!
Remember that if they have been drinking a lot of water then they might need to go outside for the loo. BUT….monitor them while outside after their bath – you don't want them getting filthy again! Some dogs launch straight back into the mud or dirt to 'get back to normal haha!'
Further reading
If you are interested in dog shampoo and grooming you might also like to read about: