patterdaleterriers.co.uk is a participant in the Amazon Services LLC Associates Program and other affiliate advertising programs designed to provide a means for us to earn fees by linking to Amazon.co.uk and affiliated sites. Affiliate links may be used on this page and in patterdaleterriers.co.uk articles, but they do not impact on the price that you pay and they do help me to get this information to you for free. Read my privacy policy for more information regarding affiliates.
The Jack Russell terrier is a sturdy, active dog of medium size whose spirit and affection make him an excellent pet. With his white coat, black/brown markings, confident stance and inquisitive expression, he's one handsome little dude!
Bounce and Bella Grain Free Dog...
PETTOM Dog Training Lead Long 15m /...
KONG - Extreme Dog Toy - Toughest...
Rosewood Salon Soft Protection...
As the original "mirror dog," the Jack Russell seems to be looking right back at you when you gaze into his eyes. He's very lively, loyal and devoted – a real friend for life. In fact, some owners report that their dogs seem almost human in their sensitivity to atmosphere and moods around them.
A Jack Russell terrier is one of the most excitable and high energy dog breeds.
Clever and Inquisitive
A high level of intelligence makes the Jack Russell terrier good at learning tricks. A quick study of basic obedience commands are quite easy for this breed once it gets going. Choose some nice training treats to reward your Jack Russell with and you will find that he or she picks up basic commands very quickly.
Bounce and Bella Grain Free Dog...
TOP QUALITY! If you've been looking for premium natural dog treats that won't break the bank then your search is over! That's because the only ingredients in our training treats are freshly prepared chicken, duck and turkey meat (80%) and potato & sweet potato (20%) which means a healthier happier doggy - guaranteed!
PRACTICAL! Because these are small grain-free training treats (approx 800 in 500g bag) you don't need to worry about over-feeding big or small dogs with your rewards. This is great because you can train your dogs or puppies for longer and just concentrate on training and enjoying yourselves. (Treats are crunchy so we recommend giving to puppies over 16 weeks old or after your pup's adult teeth have come through)
ONLY 5 INGREDIENTS! Fresh chicken, duck & turkey meat (80%), potato and sweet potato (20%). That's it! Nothing else! No additives, no preservatives, no flavourings, no sugars and absolutely no grain (or gluten) to bulk up the food cheaply. This means you can rest easy knowing you're providing the best treats you can buy for your dog. Never let your dog suffer from junk-filled treats again! (Made in the UK)
Jack Russells are also excellent watchdogs. They will sound the alarm at any suspicious activity.
Tough and Resilient
It's important to note that although this breed is tough and resilient, he does require an experienced owner who understands how to show leadership as well as provide affection. The dog must know exactly who's in charge or he'll take over! This spirited little terrier wants nothing more than your complete attention and company – he wants to be with you 24/7. It's not unusual for a Jack Russell to bark incessantly if left alone for long hours.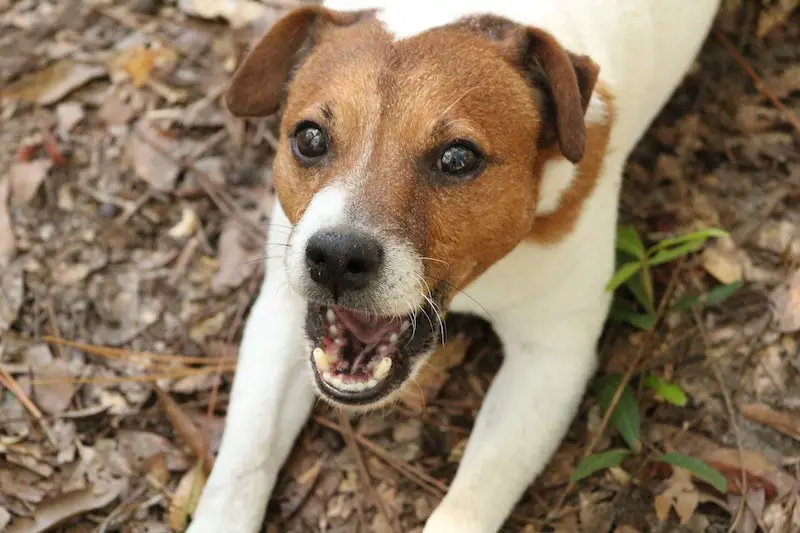 Hunting Instinct
Due to a strong hunting instinct, the average Jack Russell will chase small animals and livestock. A Jack Russell is not usually an aggressive dog, but he will kill another animal if given the opportunity. The breed also has a tendency to jump very high fences or out of open windows in pursuit of larger animals such as squirrels or cats!
You may find that this strong prey drive makes recall training (getting your dog to come back when called) a bit challenge. To help with this, you could consider long line recall training to make sure that he has grasped recall fully before letting him off.
Sale
PETTOM Dog Training Lead Long 15m /...
PERFECT Dog Training Lead: 15m / 50FT Long dog lead is perfect for dog recall training, field training, hunting and off lead simulation. Provides you with control while your dog is running freely outdoors. Must-have dog training leash for puppies, medium and large dogs.
STRONG Mountain Climbing Rope Leash: Durable and lightweight, our dog long line is made with the same material as rock climber's rope, ideal for outdoor activities. Two metal clips are well crafted, 360 degree rotation, no worries about tangles or get caught underbush.
VISIBILITY in Low Light & Water: Eye catching orange colour and reflective material makes it easy to track your dog's place, it's important to stay visible in dark places.
Gets Bored and Prone to Separation Anxiety
A bored dog can become a destructive dog. His intelligence makes him easily trainable, but when untrained, his high energy level drives him toward mischief and destruction of household items such as shoes, remote controls and furniture. He's just looking for something to do…and it might not be what you want him to do!
A Jack Russell does not like being alone. That is, unless he's got lots of toys around with which to play. So unless his pack (you) are at home with him all day, he should be kept in a large fenced area with plenty of toys to chew.
You could also try stuffing a Kong Extreme with your Jack Russell's favourite food such as wet dog meat, cottage cheese, frozen yoghurt or peanut butter. This would keep him entertained while he is on his own and keep barking and howling to a minimum. You can also freeze a stuffed Kong to make it last even longer!
Sale
KONG - Extreme Dog Toy - Toughest...
Mentally stimulating toy, offering enrichment by helping satisfy dogs' instinctual needs
KONG black rubber formula is specifically designed for power chewers
Unpredictable bounce for games of fetch
A Jack Russell is also a good candidate for doggie day care, provided that he'll get along with the other dogs and that it is securely fenced. Remember to socialise your Jack Russell from a puppy so that he grows up being dog friendly.
Needs a lot of Exercise
A Jack Russell terrier will need a lot of exercise – at least two thirty minute walks per day. He will also need off lead time such as playing fetch in the garden or a safe enclosed space or off lead walkies if he is trained with recall. Fully grown adult Jack Russells will also enjoy extended hikes of 2-3 hours on weekends and during the holidays.
Therefore a Jack Russell is well suited to active families who enjoy the outdoors and spend a lot of time hiking, cycling and playing games. A Jack Russell can be a city dog and can live in an apartment if he has regular walkies, but he would much prefer to live in the countryside and have a house with a large garden.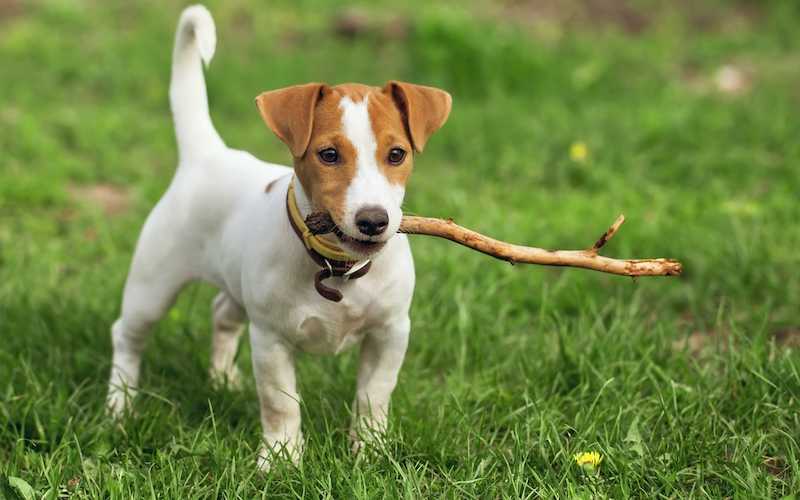 Grooming your Jack Russell Terrier
As far as grooming goes, the short-haired Jack Russell terrier needs brushing only 2 or 3 times per week . A healthy grooming routine can help keep shedding at bay! A slicker brush is the best option for grooming your Jack Russell.
Jack Russell Terrier Appearance
Solidly built and muscular, the general impression one gets of this tiny terror is of extreme compactness with no wasted space anywhere. He's about as small and low to the ground as a dog can be – about 9 inches at the shoulder, weighing only between 10-18 pounds.
A true Jack Russell will have a distinct tail curl and white or orange markings that include a blaze on his forehead, some white on his chest, stockings on his legs and tip of the tail; he may also have other white areas such as underbelly or around one eye. This is referred to as "broken pattern." No amount of white is considered too much, although a dog with excessive white markings or with colour on his head is disqualified from competition.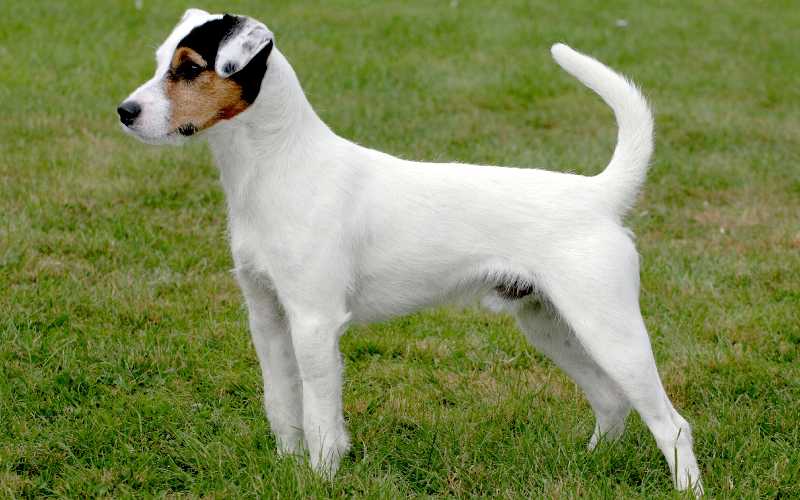 One unique characteristic of the Jack Russell terrier is that he comes in many different coat colours . There are actually two completely separate gene pools of JRTs: those bred for conformation showing (known as "conformation" dogs – often Parsons Jack Russells), and those bred primarily for hunting (known as "working" dogs). While they vary widely, many working-type Jack Russells will have solid black coats.
The short and smooth coat of this breed can be any one of these base colours: black, tan, blue merle, red & tan or tri-coloured with markings similar to those mentioned above. In addition, there are numerous varieties created by breeding the pure-bred white with other colours. White includes red and white, blue merle and white, black and tan and white and so on.
How long do Jack Russells live?
Jack Russell terriers are sturdy dogs who have few health problems throughout their life and live to a good age. The Jack Russell life expectancy is usually from 12-15 years. However, I once met a Jack Russell that was 21 years old!
The Working Jack Russell Terrier
Contrary to popular belief, this breed was developed not for fox hunting but for bolting (or "tailing") hare from their underground burrows using tactics similar to those employed by terriers in the British Isles. Some Jack Russells have in the past been used to hunt foxes and badgers. As this is now illegal in England, most working Jack Russells these days are farm dogs used for ratting and keeping the farm clear of vermin.
Is a Jack Russell the right dog for you?
A Jack Russell terrier could be the right dog for you if:
You are an active family
You work from home or don't work long hours
You enjoy walking daily and going on weekend hikes
You are training minded and can spend time teaching your dog tricks
You want a 'cuddly' dog that will often sit on your lap
You have a large house, big garden or at least live near a park/countryside
Jack Russells and Patterdale terriers are my favourite dogs – they are so happy and energetic that their presence really lifts your mood. Their active lifestyle will keep you fit and healthy. I'd never be without a terrier!
If you enjoyed this article you might also like to read about: