If you haven't already got a lickimat for your dog, you simply have to get one! They are great for keeping your dog occupied during stressful situations such as during fireworks or when strange visitors arrive. If you haven't already got one you might want to read my blog about the benefits of a lickimat for dogs. If you have one already, you are probably wondering what to put on a lickimat. You have come to the right place!
patterdaleterriers.co.uk is a participant in the Amazon Services LLC Associates Program and other affiliate advertising programs designed to provide a means for us to earn fees by linking to Amazon.co.uk and affiliated sites. Affiliate links may be used on this page and in patterdaleterriers.co.uk articles, but they do not impact on the price that you pay and they do help me to get this information to you for free. Read my privacy policy for more information regarding affiliates.
Today on my blog I'm sharing what Blake the Patterdale terrier loves to have on his licky mats. Some of his top choices include dog pate, Kong Easy Treat Cheese and Mutt Butter (peanut butter for dogs). Sometimes we do a lickimat for him that has a variety of tastes maybe half mutt butter and half dog yoghurt!
Lickimat Buddy Large - Green or...
KONG Easy Treat™ Liver (2 pack)
Healthy Hounds Mutt Butter 100%...
Forthglade Complementary Natural...
5 x 400g JR Pet Products Pure Pate...
Arden Grange Tasty Liver Treat for...
Lickimat Buddy Large - Green or...
KONG Easy Treat™ Liver (2 pack)
Healthy Hounds Mutt Butter 100%...
Forthglade Complementary Natural...
5 x 400g JR Pet Products Pure Pate...
Arden Grange Tasty Liver Treat for...
Benefits of a Lickimat for Dogs
It keeps him occupied and we always leave him with lickimats and Kong Extreme when we go out so that he is not stressed and anxious. Lickimats are also good for dogs who wolf down their food – it is a great way of slow feeding tinned dog food too. Oh and of course, it's incredibly tasty!
You can also freeze lickimats with banana, dog pate and yoghurt on them and this makes it last even longer for your pooch!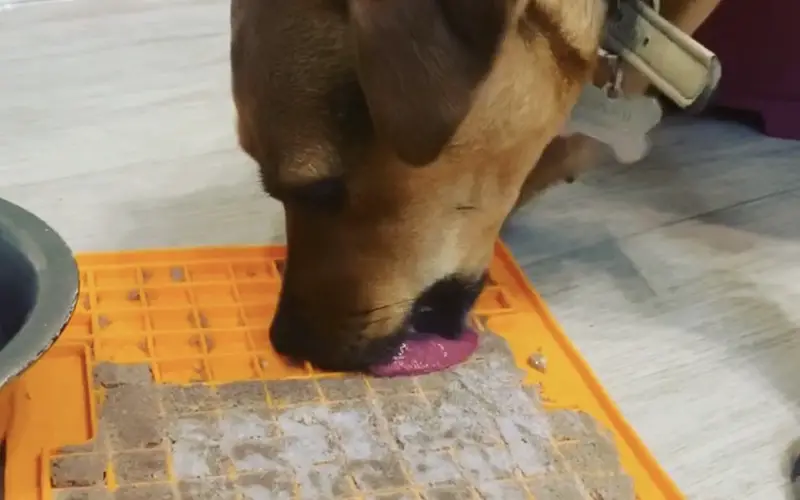 Remember to only leave your dog alone with your lickimat if you are sure that he will not eat the mat too! This has happened before to some of our readers!!! It is a good idea to get a dog camera so that you can keep an eye on your dog when you go out, but never leave him alone with things that you are unsure of!
Here are our top 7 ideas of what to put on a Lickimat
1. Dog Pate
Choose a nice high quality dog pate to spread such as Lily's Kitchen or Forthglade dog food. Don't get the type of food like Bakers or Pedigree chum tinned with chunks, because you will find yourself smashing the chucks up and it will take ages to prepare!
2. Natural Yoghurt
The best kind of yogurt for dogs is plain or even non-fat plain. Just be sure it's yogurt without artificial preservatives or any sweeteners and avoid certain fruits or flavours that are not good for does such as cherries or berries. Smear the yoghurt over the lickimat and you can also freeze it to make it longer lasting.
Arla Skyr Natural Icelandic Style...
Take on the day with Arla Skyr Natural Icelandic-style Yoghurt.
Delicious, thick texture with no artificial colours or sweeteners.
0% fat, high protein and reduced sugar* *30% less sugar than other flavoured yogurts based on a market average.
3. Kong Easy Treat
Kong do a great squeezy paste for dogs which is specifically intended for filling Kongs and lickimats. They do liver flavour, peanut butter flavour and cheese.
Sale
4. Mashed Banana
Blakes top treat is banana! Now banana is ok to give to dogs, but only in small quantities as they contain a lot of sugar. When Blake has been a really good boy we give him his favourite lickimat – frozen smashed banana half and half with Mutt Butter!
5. Mutt Butter
One of Blake's favourite Lickimat spreads is peanut butter for dogs. It's best to avoid giving dogs human peanut butter because it can contain xylitol which is toxic to dogs. So order a specifically made peanut butter for dogs such as Mutt Butter. Mutt butter by Healthy Hounds is 100% natural and completely safe for dogs. It contains no added salt, sugar or xylitol. It's also palm oil free so good for the environment.
Healthy Hounds Mutt Butter 100%...
No Palm Oil, Xylitol, or Harmful Additives: Our Mutt butter has a naturally thick and creamy consistency, containing only roasted peanuts and a touch of vegetable oil. There's no added salt, sugar, or dangerous sweeteners like Xylitol to worry about
Natural Ingredients: We only use the finest, natural ingredients in our Mutt Butter. It has no artificial additives, preservatives, colourings, binders, or fillers such as coconut oil, etc. With our product, you can be assured that it is safe
Features Natural Vitamins: The doggy peanut butter contains some great vitamins for dogs, including Vitamin B, Niacin, Vitamin E, healthy protein, and heart healthy fats. It is much healthier than a pill pocket or other dogs treat pastes
6. Cottage Cheese
Did you know that dogs can eat cottage cheese? Well they can and it makes a great filling for lickimats. A small amount of cottage cheese for dogs as it is low in lactose and rich in calcium.
7. Applesauce
Dogs can actually eat applesauce and it's great for spreading on Lickimats. If you are looking for a good applesauce for your dog, go for an organic brand that doesn't have added sugar or fillers.
I hope that you enjoyed this blog on what to put on a Lickimat? I'd love to hear about what your dog loves on a Lickimat! Are there any of his or her favourites mentioned here? Or perhaps you want to share a few new ideas that I haven't mentioned in my blog. Please leave your comments below!