patterdaleterriers.co.uk is a participant in the Amazon Services LLC Associates Program and other affiliate advertising programs designed to provide a means for us to earn fees by linking to Amazon.co.uk and affiliated sites. Affiliate links may be used on this page and in patterdaleterriers.co.uk articles, but they do not impact on the price that you pay and they do help me to get this information to you for free. Read my privacy policy for more information regarding affiliates.
Patterdales are excellent dogs for hiking due to where they were bred in the Lake District. Their birthplace in Patterdale is surrounded by magnificent views and stunning hikes. They have high energy levels and a large amount of stamina. A 3-4 hour hike is easy and enjoyable for a young and healthy Patterdale terrier. So where can you take your pooch to burn some energy and enjoy a beautiful walk? Are there any tips to consider? Today's blog is all about hiking with your dog.
One Trail Hands Free Dog Lead |...
Upsky Dog Water Bottle Portable Pet...
Julius-K9, 16IDC-C-0, IDC...
K9 Powerharness, Size: XL/2, Red
KeepSa Cotton Sun Hat UV Protection...
Pet Bakery Dog Treat Brownies...
One Trail Hands Free Dog Lead |...
Upsky Dog Water Bottle Portable Pet...
Julius-K9, 16IDC-C-0, IDC...
K9 Powerharness, Size: XL/2, Red
KeepSa Cotton Sun Hat UV Protection...
Pet Bakery Dog Treat Brownies...
Hiking with your Dog – Safety
First of all, safety. When hiking with your dog there are many safety precautions that need to be taken. The first of which is to always pre-plan your route, this can prevent you from getting lost or ending up on an extremely long trek that you didn't sign up for. It will also be highly important to send your pre-planned trek to somebody who you are not hiking with, a friend who can check up on you if need be. All you have to do is send them a picture of the route you plan on taking and stick to that route.
GPS is also very important, make sure that you have it turned on just in case things don't go as planned. Another thing, remember that you should always take back up phone chargers, perhaps even a solar powered phone charger just in case.
iPosible 26800 mAh Solar Portable...
High capacity external battery can charge your cell phone at least 6-8 times
Suitable for travel and business
Compatible with all mobile phones and tablets
Do not just take one backup and hope that that'll do. Back up chargers are prone to breaking and it's always best to be safe rather than sorry. You can also get a dog GPS tag like a Pitpat or this Tractive dog GPS tracker…
Sale
Tractive GPS Dog Tracker | Market...
REAL-TIME GPS TRACKING: See the location of your dog and track them anywhere with no distance limit
MARKET LEADER: Trusted by millions of customers and winner of numerous international awards; rated 4.7 out of 5 on Trustpilot (based on almost 20k reviews)
WORKS ABROAD: Worldwide coverage (UK and 175+ countries) with unlimited data and range to enjoy a worry-free vacation with your pet
You should also make sure that you do not go alone when hiking, it is always best to go with somebody else for safety as anything could happen to you, sadly there are some things that your Patterdale can't deal with alone. If your route passes by or through farms, please be mindful of the animals and make sure that if you open any gates, to close them behind you. Even if you don't see any animals in the field. 
What to Pack for hiking with your Dog
So what can you pack when you go hiking with your dog? Apart from the many phone chargers, you will of course need other items to keep you and your Patterdale safe and full of energy during your hike. First of all, water. Water is likely the most important item that you will need. Make sure that you bring plenty of it as the chances are, your Patterdale will go through quite a bit when hiking. You may wish to bring your four-legged friend a special bottle that has a dog dish attached to it, or you may bring your dog's bowl.
Makerfire Portable Dog Water Bottle...
🎉One-touch Lock Water: One key to open and close, convenient for dogs to drink.Leak proof, do not waste water in outdoor travel. You can hold the dog in one hand and feed dog to drink water in other hand.
🎉Large Capacity of Small Size Bottle: This 75mm * 208mm water bottle can hold 550ml water. Small size, easy to carry, large capacity, do not worry about the dog no safe water to drink while out of play.
🎉High quality material:FDA approved, lead-free, BPA-free, PET+ ABS , safe and durable, easy dismantling and cleaning.
Whichever you think that your dog will take to best, just make sure that you bring plenty of water. Snacks are also important, you can bring sandwiches, fruit, or whatever you feel is best. You should also make sure to bring snacks for your dog, even if it is a short hike, just to be cautious. A first aid kit is also something you will need to take with you as a precaution. Even just for things such as blisters, a first aid kit will be a helpful tool to have in your rucksack.
Sometimes when hiking with your dog it can get cold with higher altitudes, so please, even if it is warm when you leave, bring yourself a coat, and bring your dog a coat.
Sale
Ancol Muddy Paws All Weather...
Waterproof surface and cosy fleece lining for comfort and warmth in all weathers
Elasticated leg straps, relective edging for safety and extra visibility in low light and a zippered harness slot for lead attachment
Chest-protector with elasticated neck to help keep dogs clean and dry
You should also bring your dog's lead of course, a harness (we like to use the Perfect Fit harness for Blake), and make sure that they are wearing a collar. You may also wish to bring a muzzle for your dog, particularly if you need to travel past sheep farms. The Baskerville muzzles are the best as they will allow your dog to pant, drink and eat comfortably. The size 2 baskerville muzzle will fit a Patterdale Terrier. You can train your dog to take the muzzle by giving treats with the muzzle and using it initially for short walks to give him or her used to wearing it.
Safe BASKERVILLE ULTRA MUZZLE, Size...
DOGS CAN PANT AND DRINK: The Baskerville Ultra Muzzle PATENTED HUMANE DESIGN allows dogs to pant (when hot or stressed) and drink. SUITABLE FOR DAILY WALKS and longer periods of wear.
SHAPE FOR CUSTOM FIT: Like a mouth-guard, the Ultra Muzzle can be HEAT SHAPED using warm water to fit DIFFERENT DOG NOSE SHAPES. See fitting guide for more info and to find the BEST SIZE for your dog.
IDEAL FOR REACTIVE DOGS: you can TRAIN and REWARD treat your dog if they are reactive around other dogs, people or in new situations like the vet.
Where to take your Dog Hiking in Uk
Now, where can you go hiking with your dog? First of all, note that it is important to wait until your dog is at least 12 months old before taking them on hikes. This is because dogs bones are not fully developed until then, and taking them on long challenging hikes may do long-term damage. Here are some places to consider taking your pooch for a hike:
Snowdonia
Now most people will assume Snowdonia to be more of a challenge, but it also depends on the route that you take. The Llanberis Path, the Pyg, and the Miner's Track are all good options. The Pyg and the Miner's Track are slightly more challenging and perhaps aren't best if it is your dog's first time hiking. The Llanberis however, is a perfect option for your first hike together. It is quite a common route for dog walkers as it is not as steep as the other trails. The Llanberis trail is actually the most popular trail for Snowdonia as well as being the easiest. It is a distance of 7.13 kilometres and has an ascent of 948 metres, taking around 4 hours to complete and reach the summit of Snowdon. However, it is recommended to avoid hiking in Snowdonia during the winter months as it can be very dangerous.
Scottish Highlands
The Scottish Highlands are also a good option for taking your pooch on a hike. There are plenty of hills and dales here that offer stunning views and an interesting climb. This includes the famous Ben Nevis, the tallest mountain in the UK.
Glen Affric is also a popular spot that is popular with walkers, it is known to be the finest of Scotland's Glens and the view is spectacular and historical, it is where Bonnie Prince Charlie hid after his defeat at the Battle of Culloden in 1746. There are many different trails at Glen Affric, three of which go around 'Dog Falls'. The White Viewpoint Trail is a two mile long and steady climb that will take around 50 minutes that offers stunning views. The Red Dog Falls Trail is also two miles long, but it takes about an hour to climb as the path can sometimes be slightly muddier. This route may even let you see otters in the Dog Falls. The Yellow Coire Loch Trail is just over three miles in length and takes one and a half hours to complete. It is steeper in places than the other two, also offering beautiful views. 
Lake District
The Lake District is the original home of the Patterdale offers a range of different hikes for you and your dog. The Derwentwater Circuit is one of these, it is a 10 mile hike, but the flat terrain and stunning views are perfect for you and your dog. There are also some dog-friendly cafes on route. Dodd Wood and Dodd Fell is also a great hike at 5 miles long. It is relatively easy to climb and only gets steep towards the summit. The whole route offers stunning views and is perfect for you and your dog. Or why not visit the birthplace of your pooch while you are in the Lake District? The Patterdale to Silver Point is the perfect hike for you and your Patterdale. It is 7 miles long and takes you to Silver Point that offers beautiful views of the valley and the water.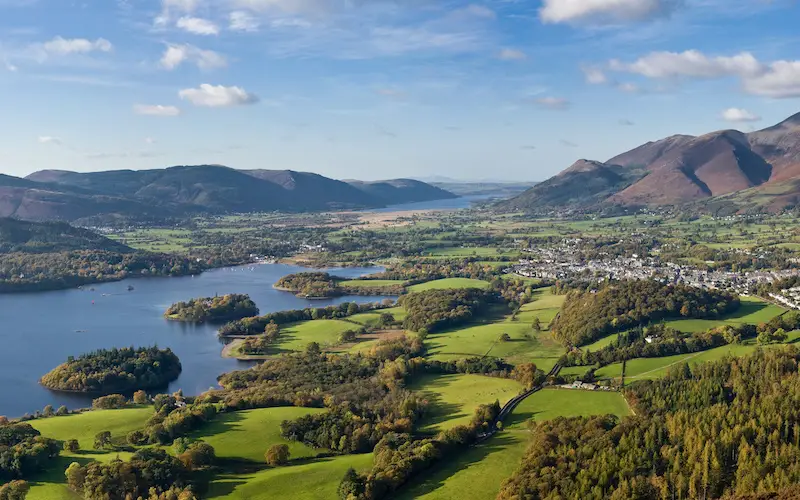 Peak District
The Peak District also offers many different options for hiking with your dog. Some of which include the Riverside Ramble – Calver to Froggatt Loop, which is 2.5 miles long and it begins and ends at the pub, but there is also the option to only walk 1.5 miles of the trail if you are up for a shorter walk. The Trail Blazing – Monsal Trail is also a very good option as it is extremely versatile. It can range from anything between 10 minutes to three hours so you can personalise it to suit yourself and your Patterdale. It is a peaceful trail and common among dog walkers.
All of the areas explored offer a range of other dog-friendly trails so before you go hiking make sure to google the routes and make sure that you take all of the safety precautions. 
Why not take a look at our article about: