patterdaleterriers.co.uk is a participant in the Amazon Services LLC Associates Program and other affiliate advertising programs designed to provide a means for us to earn fees by linking to Amazon.co.uk and affiliated sites. Affiliate links may be used on this page and in patterdaleterriers.co.uk articles, but they do not impact on the price that you pay and they do help me to get this information to you for free. Read my privacy policy for more information regarding affiliates.
Today I'm introducing my wonderful rescue Patterdale Blake, who came into our lives just over a year ago. Blake was a rescue dog from the RSPCA and here's his story.
We don't know the exact extent of the abuse that he was experiencing in his first home, but it said on his adoption paperwork that he was rescued from a domestic abuse situation. It's likely that he has been kicked or hurt in some way as he had a MASSIVE fear of men when we got him. He also was probably defending his first dog mom from violence which meant that he had learnt to be aggressive to men through fear.
We knew that he was very intelligent and very crazy the first day that we went to meet him. He was thirsty and used his whole paw to get a water bowl through some kennel bars with a 'scooping' action! When we did the test walk, he went crazy at all the other dogs in the kennels! But he instantly loved his dad! We also saw him have an unexpected but friendly reaction to another dog. We signed up there and then! A £20 adoption deposit, a few forms and several questions later we were sure that Blake was going to be ours!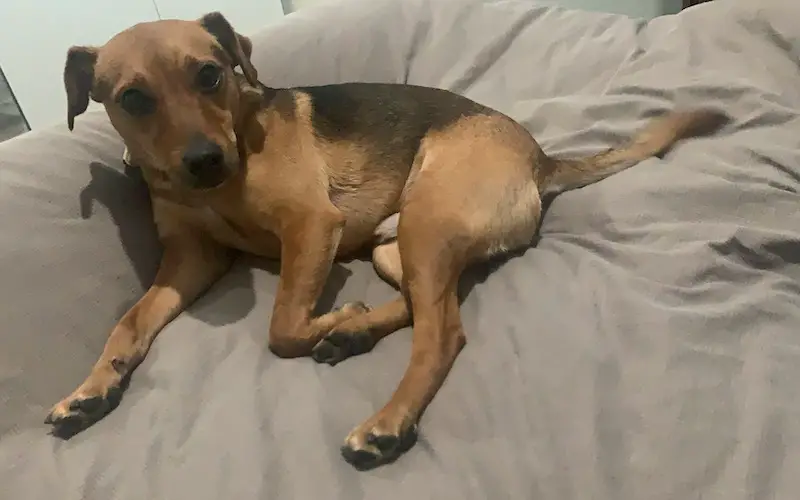 We were asked several questions about dog ownership, and as we had owned terriers before and knew a lot about the breed and dog ownership, we were good candidates for becoming Blakes dog mom and dad! We were told that he needed a training minded household without kids, which we could provide. We wanted an active dog to do fun walks and hikes with. We also wanted a dog to train and maybe even do a little agility.
The initial meeting was followed by a home check. We were asked questions about looking after the dog and affording food and vet bills. As we worked from home and had everything set up ready for our new pal including his sleeping and eating area, we were soon proud owners of our new rescue patterdale!
The home checker told us to call about 20 minutes later. We were thrilled when they answered straight away and said 'you can pick him up today!'
Poor Blakey boy cried in the car on the way home – he was just a little confused about what was happened. Over the next 3 months, we saw 3 different versions of Blake – one that didn't move from his bed like he was shell shocked, one that wouldn't stop barking and attacking, and finally the loving pet that we know and love today!
Adopting a rescue requires a lot of time and patience. They have to learn to love and trust slowly, but when they learn to do this, they have so much love to give!
We have made masses of progress with Blakes training. By 6 months down the line, we started to be able to take him places such as quiet cafes and friends houses without him lunging, barking and lashing out at people (men in particular!). He first had a one-to-one trainer and after 6 months of having him he then progressed to classes in Liverpool with Dawn and April at Pawsitively Does it. After 12 months he started doing some off-lead recall in enclosed fields. Although he can be easily distracted by other dogs in particular, he is doing well and we are continuing to try him off lead and progress.
Even a year and a half into our adoption journey, Blake is always learning new things and we are learning new things about him. Blake loves footballs, hates bikes and cannot contain his excitement when we go to the beach! He loves other dogs a bit too much and needs to stop the barking, but we learnt that it is a play bark more than an agressive bark – he just wants to play so bad!!!! Blake cries and wimpers when the car pulls up at his favourite spots in `Liverpool! He cries and wimpers excitedly again when we turn into our road! He is one in a million and how we love him so!
Our house is now a home because of Blake, and just over a year after adopting him, we couldn't imagine life without him.
If you are thinking about getting a patterdale rescue, or want to share stories about yours then please comment on this blog. If you are looking to adopt, you might want to read this article about Patterdale terrier rescue centres in the UK.
You can find out more here about why you should adopt not shop!