patterdaleterriers.co.uk is a participant in the Amazon Services LLC Associates Program and other affiliate advertising programs designed to provide a means for us to earn fees by linking to Amazon.co.uk and affiliated sites. Affiliate links may be used on this page and in patterdaleterriers.co.uk articles, but they do not impact on the price that you pay and they do help me to get this information to you for free. Read my privacy policy for more information regarding affiliates.
Welcome home! So you've decided to get your new adorable cutie! But what do you need ready for your new puppy to come home? Because I was getting asked so many questions about this, I decided to put together this new puppy checklist – I hope that you find it helpful!
New Puppy checklist
Bed or crate with blankets
collar and tag
lead and harness
toys
food
brush
poop bags
Dog toothpaste and toothbrush
Dog shampoo
Flea prevention and worming tablets
Register with a Vet
Bed or Crate
The dog bed is probably one of the most important things on your new puppy checklist. He/she will be confused about the change and will need somewhere that they can feel safe and secure. Decide what type of new bed is best. If you have a breed prone to chewing, you might opt for a chew proof dog bed such as a hard plastic bed over a soft plush one. Don't worry, whichever bed you choose you can make it comfortable for you new puppy. Bringing something from his original home would be a good idea to keep the scent of its mother to comfort him while he settles. Consider the size of the bed based on the breed and how big the breed gets when fully grown, rather than the size of your new puppy now.
Collar and tag
Choose a collar for your new puppy. If you are welcoming a young puppy into your house, it's likely the first collar won't last him that long. An adjustable puppy collar will be suitable. Also you will need to get your new dog a tag with your contact details. Many people choose not to include the dogs name as a dog should come when called only by his or her owner. Most key cutters will engrave the tag for you – I use Timpson.
Lead and Harness
A good sturdy training lead will serve you and your new puppy well. There are many different types of leads including chain leads, rope leads and fabric. It's a good idea to discuss the best type of lead with your breeder or rescue centre. I don't recommend extendable leads as they are not so sturdy and can sometimes release without warning which can be dangerous near roads.
My favourite training leads are the ones that can hook on both the collar and the back of the harness – we use a perfect fit harness with our Patterdale. A split lead has two advantages – double protection and double control! If your dog pulls the pressure will be on his back not his neck. You can then use your other hand to redirect the head to the direction you want it to go.
It's a good idea to have a well fitting harness, and an adjustable will grow with his him/her. Harnesses are more comfortable for training your dog and takes the pressure off the neck when pulling.
Dog Toys
Make your house nice and fun for your new puppy with plenty of toys that will grab his/her attention and distract him/her from chewing the furniture or any other items. It's a good idea to get a small selection of different toys when your new puppy first comes home, because you might not know what he/she likes. A selection of balls, dog plush toys and raggas or tug toys would be a good start.
Brush or Comb
The kind of dog brush (or comb) that you need for your new dog will depend on the breed. Certain breeds such as poodles, bicon frise and Lhasa Apso require a lot more grooming than others.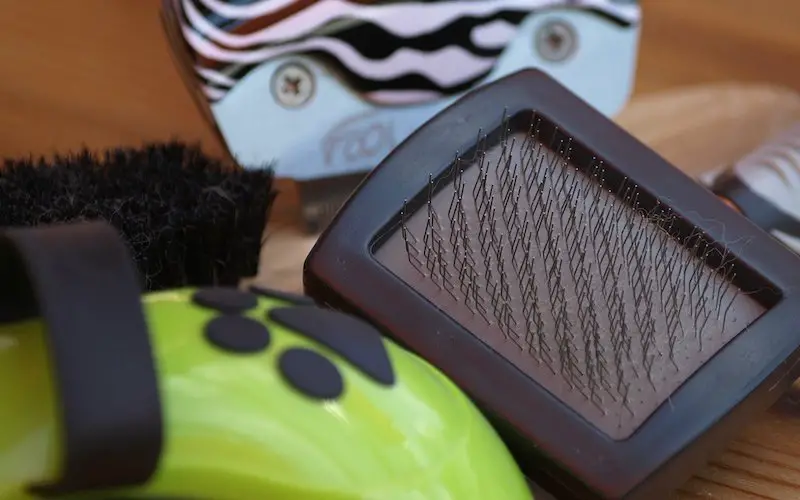 Food and Treats
If possible, keep your new puppy on the same food that it was on before with the breeder or rescue. A change in diet can cause stomach issues in dogs and he or she will already be a little unsettled with the change. We kept our young dog on Chappie kibble as this was recommended by the RSPCA. Most kibbles and dog foods have puppy and adult versions, and it would be expected that they progress from puppy to adult food at around 12-18 months old.Again, it will depend on your breed.
For dog treats, we like to use high protein treats such as Healthy Hounds that are free from additives and grain free. Most dog food brands have specific puppy treats such as Pedigree, Wagg and Lily's Kitchen. Don't give too many to a very young dog!
Toilet Training
Plenty of newspaper is required for toilet training as there are bound to be accidents! But your new pup will pick up where to go to the toilet very quickly if you implement a reward based system with treats as soon as he/she does it outside! Some people use puppy training spray or puppy training pads to help with this which you can choose to use. Puppy training pads are often much more absorbant.
Poop Bags
This is the less enjoyable aspect of dog ownership, but you will need to et some poop bags to scoop your pooches poop. If you don't like the idea of just using the bag to scoop it, you can consider getting a proper pooper scooper!
Toothbrush, Toothpaste and Dog Shampoo
It is a good idea to start brushing your dogs teeth from a young age so that they get used to it. You can get special meaty flavoured puppy and dog toothpaste and a canine toothbrush online. Also you will need to bath your dog roughly every 3 months (again breed dependent) and you cannot use a human shampoo as it can irritate their skin.
Flea Prevention and Worming tablets
Most dogs will be prone to fleas particularly in the summer months and prevention is better than cure. If you don't prevent fleas in the first place, you will then be de-fleaing your whole home and not just the dog! Young puppies under 12 weeks old probably won't need a flea treatment as they are with their mother inside the house most of the time. There are some excellent flea and worm treatments for dogs but always check with your vet to make sure that you are using the right ones for a puppy – you will need to tell your vet the age of the pup and what you intend to use, or buy directly from your vet.
You can get Frontline which is a good spot flea treatment for young dogs. It goes on the neck once a month. Check the age warning as most frontline treatments are not to be used on puppies under 8-12 weeks. Although you probably won't start your flea treatment immediately on a new puppy (they will be with you until they have had their first injections anyway) it is good to budget for it and have a supply in ready. Start flea treatment on the vets advice.
It is recommended that puppies are wormed at 2, 5, 8 and 12 weeks old, and then once a month until they are 6 months old. Older dogs are also wormed regularly – it is recommended that dogs over 6 months old are wormed every 3 months. Therefore it is a good advice to get a supply of worming tablets in. These can be bought from your vet or ordered online – just check that you are getting the right worming tables for the age, breed and size of your dog. If you are getting your puppy from a reputable breeder they should be telling you where they are up to with their worming schedule and how to continue.
Register with a Vet
One of the most important things on your new puppy checklist is registering with a good local veterinarian. Things to consider are…
How close and easy to get to is the surgery?
What are the reputation and qualifications of the vets?
The opening hours e.g. do you need weekend and evening opening hours?
The first appointment that you will be arranging for your new pup is the boosters to protect against canine viruses. They will probably have their first lot with the breeder at around 7 weeks and then the next lot of injections with you the new owner at 12 weeks. Call the vet as soon as your new pup comes home and they will organise an appointment and your vaccination schedule.
If you are a new dog owner and enjoyed this new puppy checklist, you might also like to read why is my dog scratching? and Waterless Dog Shampoos.
You might also to like to read about Washable Dog Bed.